Fort Ross Vineyard & Winery: winery information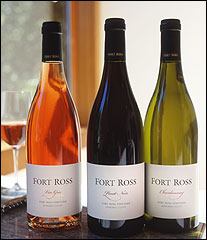 Winemaker: Jeff Pisoni
All of our wines are produced entirely from estate grown fruit. This ensures that each bottling possesses the intense complex flavors and minerality specific to our unique terroir. We grow three varieties: Pinot Noir, Chardonnay and Pinotage. Pinot Noir and Chardonnay were first harvested in 2000. Pinotage was first harvested in 2001.

Grapes are picked for flavors and physiological ripeness, not just by the numbers. Sometimes single blocks are harvested several times so that only those grapes with the desired flavor components are selected.

All Fort Ross Vineyard wines are handcrafted. We endeavor to marry the truest expressions of the different clones into distinct wines that best reflect their component flavor profiles. Barrel selection plays a very important role in our winemaking and blending decisions. The objective is always to create wines that reveal their fruit, with structure, balance and finesse.

With rare exceptions our wines are unfined and unfiltered.
Annual Production: 4,500 cases
Estate Vineyard Acreage
Fort Ross Vineyard is a necklace of 28 small mountain vineyard blocks that cling to a sunny coastal mountain ridge overlooking the ocean. Less than a mile from the Pacific Ocean, Fort Ross Vineyard is one of the closest, if not the closest vineyard to the ocean in all of California. The vineyard rises in elevation from 1200 to 1700 feet above sea level. Ranging in size from one-half to two acres, each small vineyard block has its own particular terroir and is planted with rootstocks, varietals, and clones or field selections best suited to reveal the terroir, varietal typicity and clonal attributes.

During the growing season the vineyard is almost always in bright sunshine during the day, yet subject to the tempering influence of the fog that often hugs the coastline far below. Temperatures rarely drop below 55 °F or rise above 85 °F, the range in which grape vines are physiologically active.

At night the ocean fog sometimes rolls up and over the vineyard only to recede back down to the ocean again with the morning sunrise, leaving the vines to do their best work in the long bright sunny days.

The yields are kept low. While most of the vineyard naturally produces less than one to three tons of fruit per acre, on the rare occasions where weather conditions and berry set encourage higher yields, fruit is dropped to ensure concentration and typicity.

Consequently, the vines have a yield and growing pattern that allows the berries to slowly and evenly ripen to complete physiological ripeness with increased varietal distinctiveness and a desirable acid balance.
Grape Varieties Planted