Wolf Mountain Vineyards & Winery: winery information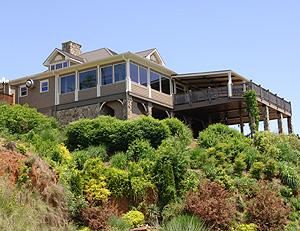 Winemaker: Karl Boegner
The Boegner Family is proud to release our award winning limited bottling of handcrafted wines. Our wines are produced from 100% Georgia-grown grapes, hand-picked at the 1,800-foot elevations of the Dahlonega Plateau. Labor-intensive protocols focus on a less invasive use of gravity, hand-punching the caps during red fermentations, whole-cluster pressing white varietals and minimizing the need for filtration. Our wines are aged in French oak barrels in the Old World ambiance of our Cask Room. The winemaking philosophy is focused on blending varietals to create new and unique wines. By limiting our production to seven wines, we ensure that each wine is given the individual attention it requires. Our goal is to achieve the highest quality in locally-produced wines for your enjoyment.
Annual Production: 3,000 cases
Estate Vineyard Acreage
We currently have 10 acres planted and are growing Cabernet Sauvignon, Mourvedre (a Rhone varietal), Syrah, and Touriga Nacional (a Portuguese varietal). All of our wines are made from North Georgia vinifera grapes!
Grape Varieties Planted