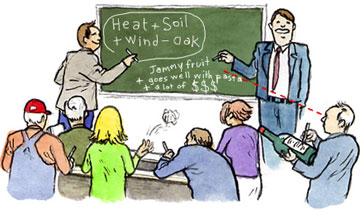 Goldfarb's Pressing Matters:
"What the Hell is Terroir Anyway and Why Should We Care?"
"…after sitting through interminable hours over four days at Davis, one thing at least is clear: everything we know about terroir is wrong. Or at best, more clouded."
by Alan Goldfarb
March 27, 2006
---
DAVIS, Calif. -- If you listen to the marketers, geologists, archeologists, anthropologists, biologists, water scientists, viticulturists, and all the other
"ists"
who spoke at the first terroir conference at UC Davis recently, the consumer will undoubtedly come away uttering, "Huh?"
Terroir
and all of its permutations, it seems, will be the next thing that an already quizzical public will have to slog through. They may have mastered oak regimens and alcohol percentages, and what '
hang time
' has to do with the wine in their glass. But now comes terroir.
Nearly 200 wine industry types listened to a gaggle of speakers on such esoterica as global warming, sensory validation, soil amendments, plant biology, phenols and other compounds, as well as biodynamism; and how the gestalt pertains to wine and terroir. But what they came away with was a cornucopia of definitions of the meaning of terroir. Collectively, it most assuredly will muddle the message that will, in the end, wind up once again in the perfumed air of the marketing department. Which in turn will, perhaps for the first time, have to explain -- really explain -- the exigencies of what it all means, Alphie.
In no certain order the panelists at the colloquy, who represented eight countries, defined terroir thusly.
Terroir is:
Ephemeral
So much Chat
An experience
Ignorance
Challenging
Enigmatic
Confusing
Speculative
Observation
Empirical
Schizophrenic
A Sensory construct
Collective memory
Amorphous
Elusive
A Conundrum
Palate of the Beholder
Conceptual Milieu
Everything
Bullshit
Conglomerated, those 20 words add up to a one-word conclusion:
Wow!
As in wow, how are we going to get the winemaker, the vineyard manager, and the guy who pays the bills -- the owner -- to buy into that? With all that jabber, even they don't quite get it. So, how in heck, and most important, will the consumer even begin to pick up all those sticks before that tangled ball called "terroir" hits the ground?
We all thought the soil, the topography, the climate, and of course, the locales -- natural elements all -- were what defined terroir. But now, after sitting through interminable hours -- some enlightening and enriching -- over four days at Davis, one thing at least is clear: everything we know about terroir is wrong. Or at best, more clouded.
But never you mind, because as the wine drinker does the breast stroke through all the arcanery that is associated with wine, she or he will somehow work their way through all the seaweed.
Terroir, of course, has been a part of the European wine climate for millennia. But the notion of terroir in this country, although it's been in the ether for about a quarter-century, has only been employed for geo-political catfights and on back labels cranked out by publicists who don't know a bench from an escarpment. But now the ferment has begun in earnest and it's beginning to reach a kind of critical mass.
One only has to witness the clatter of terroir at several symposia over the last couple of years. For instance, at the June, 2004 'Sommelier Summit' conducted by Constellation Brands, smarting
Ravenswood
winemaker Joel Peterson took on Dr. Richard Smart, who as he is wont to do, repeated one of his mantras:
winemakers don't make wine, yeasts do.
Recent events at 'Premiere Napa Valley' and the 'Symposium for Professional Wine Writers' -- forums staged all or in part by the savvy
Napa Valley Vintners
-- seized the moment to convey to wine journalists the dirt about terroir; and plied them with ideas and techniques about how to chronicle terroir's coming wave.
Even the launching of this Web site, whose focus is invested heavily in every wine appellation on the North American continent and their commensurate terroir, is evidence the subject is now one to pay rapt attention to.
So, while the scientific community weighed in at Davis, leave it to the iconoclastic poetry of
Bonny Doon
's Randall Grahm, and the eloquent writer and teacher Karen MacNeil to cut through the miasma.
Grahm, a speaker on the growing but still "off the wall" subject of bio-dynamics began his treatise, "The Phenomonology of Terroir: A Meditation," in his inimitable fashion by coming clean. "Terroir was the great absence in my winemaking life … but I have become an unremitting seeker of terroir," he said. This, after fessing up that he had "become reconciled to the notion that as much as I yearned to produce a wine that expressed terroir, producing such a wine in my single lifetime just struck me as impossible, and I was simply having to get over it."
MacNeil, the author of
The Wine Bible,
presented to the gathering a half-dozen wines from around the world that she believed displayed terroir characteristics.
But after one member of the audience gently took her to task for her including a very fine
Hyde de Villaine
Chardonnay of which he said "there's no terroir here," MacNeil took the high road. She too confessed, and hoped against hope, that one could identify terroir in
California
.
"Coming from California, it is the wish that California has a sense of place," the soft-spoken and erudite MacNeil retorted. But she continued, "I have to admit that I don't think I could (identify the place of this Chardonnay). But I wish I could.
"My wish is (that California) make wine a little bit more minimalist-y."
The inference alluded to the winemakers' and/or the viticulturists' intervention, which was a subject that was repeated during the four-day meeting.
The idea of "nature versus nurture" always seems to be the duality that gets in the way of coming to grips with this notion of terroir. What nature gives us is often augmented, enhanced, or ameliorated by man or woman. But John Buechsenstein, who makes wine for
Sauvignon Republic Cellars
, in his talk, "Terroir Flavor Effects in Wine," said he can live with the clash of forces if nature and man can come together to "equal" terroir.
"Terroir may be more easily recognized than described," he said, "but describing it would destroy the magic and the mystery … We must not step through the mirror (but) we have to talk about it. We can't just chalk it up to magic … So I say, let's deconstruct it and communicate it.
"The concept of terroir bugs me and causes me to understand it and figure out if it's real or it is merely sophisticated branding."
One thing terroir is not, to which some alluded, is that it isn't "everything." It may not only be the soil, the wind, the rainfall, and the temperature that determines it. But perhaps now we have to factor in the human element.
Because if we merely believe that terroir is all things conceivable, we may just have to stop talking about it and continue to turn the damned confounding thing over to the marketers who will forever churn out hyperbolic drivel on back labels.
~ Alan Goldf