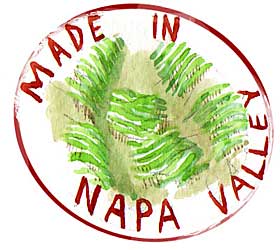 Is the Regional Distinctiveness of Wine a Thing of the Past?
Napa is the brand. That's the Vintners' main goal. Protect Napa. Napa is 'wine country,' Napa makes the best Cabernet in the world, and Napa is the only thing you need to know if you're talking about wine.
~Anonymous Napa vintner
by Dan Berger
March 5, 2007
---
Two decades ago, wine lovers were treated, if that's the correct word, to a debate among many of the world's wine experts regarding the real meaning of "Rutherford Bench." This area of the world was supposedly real, not mythical, but was definitely an ill-defined area of the Napa Valley that supposedly delivered a
Cabernet Sauvignon
of such distinctive character that Rutherford Bench was rated as a valuable commodity on a wine label.
The Bench, as locals called it, was roughly defined as that area north of Oakville (thus excluding all of Robert Mondavi Winery's famed To-Kalon Vineyard) and sitting on the western foothills of the Mayacamas Mountains, facing east. All of it supposedly had a similar type of soil and climate exposures, which were faintly cooler, on average, than vineyards just to the east. The eastern vineyards were more valley floor-ish and thus got daily sunlight for a few more minutes each day.
A lot of people wanted to be included in the Rutherford Bench because it gave their Cabernets a certain panache, a caché, an ineffable quality that might well translate into dollars.
The Rutherford Bench was so well accepted as a fact that it made it into a number of wine books, including one by the estimable Hugh Johnson. It was the stuff of which legends might be made; that is, if only people could agree which lands were inside the bench and which were not. And, as you can well imagine, a lot of people wanted to be included in this bench-land region because it gave their Cabernets a certain panache, a caché, an ineffable quality that might well translate into dollars. In fact, so many people wanted in on it that the debate caused a lot of purists to shy away from weighing in. What was it that made The Bench so special? And, more importantly, where was it, exactly?
The Bench Border War
There was little question that the old Inglenook property, now owned by Francis Ford Coppola and called Rubicon, sat within the boundaries of the bench - likely at the heart of it - and that one of the first properties on the southern boundary was that of Staglin Family Vineyard, which was formerly owned by Walter and Dagmar de Pins Sullivan. (Dagmar was the granddaughter of Beaulieu founder Georges de La Tour.) The Bench was also considered to include a plot of land farmed by a Hollywood film executive, J.J. Cohn. This particular plot was famous for its fruit, which decades ago went to Inglenook. Other boundaries, however, were hotly debated, notably along the northern border
The wrangling that ensued had a lot more white noise than valid argument. And all of this was due in part to Andre Tchelistcheff, California's greatest early winemaker (and the tutor to dozens of vinous craftspersons for at least a generation after). Tchelistcheff proclaimed all Cabernets from this region to possess a remarkable quality which he also perceived in other wines of the region. It was, he said, Rutherford Dust. It was unique and desired.
The wines of Oakville, just to the south, said Andre, didn't possess this unique character and what Rutherford delivered was so definable to him that he implied a separate appellation for the Bench was appropriate. The infighting that took place, however, included a fair bit of back-biting and soon led to the obvious conclusion: almost no one was going to be happy with any proposed Rutherford Bench boundary. At some point, to wipe out the controversy, it was generally agreed to abandon the effort to define the region.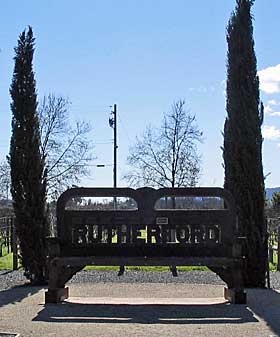 Terroir vs. Brawn: Terroir 3, Brawn 10
That was nearly two decades ago. In the intervening time, although I have heard definitive and research-supported opinions about where The Bench really is, it has become less and less a topic for discussion. That, I believe, has more to do with the style of wine that so many wine makers are pursuing these days, a style that features weight, power, and concentration over any of the subtle nuances of the greatest Napa Valley Cabernets of the past. Terroir now plays second fiddle to brawn.
By playing this power game for all red wine, Californians are tinkering with Mother Nature's desire to grace every wine with the terroir charm that providence has set out for it. A charm that, not incidentally, would benefit the consumer. Distinctiveness is in the best interest of the consumer; sameness is not.
It has been more than a decade since the debate over the Rutherford Bench fizzled out, but today the memory of Tchelistcheff's words resound with me. And it relates not only to Rutherford, but to all of the great sub-appellations of the Napa Valley; indeed, to all other wine-growing regions in the United States.
Is there really a Rutherford Dust character lurking there beneath all the alcohol and oak? If so, is it worth trying to capture? And broadening the argument, did the 1973 Stag's Leap Wine Cellars Cabernet Sauvignon win the Paris Tasting of 1976 in part because it delivered a unique and appreciated Stags Leap District character?
To be sure, we could see early, obvious differences between the three Cabernets of Diamond Creek, the Volcanic Hill, the Red Rock Terrace, and the Gravelly Meadow (and later the Lake). These wines have different soil types and different exposures, so it's not surprising that they would smell and taste differently. But as time moved on and the 1994 and 1997 vintages taught California wine makers that bigger was better than terroir, we moved inexorably away from any regional-based profile and toward more homogeneity.
If we had never experienced this demand for more weight and power, and less distinctiveness, what would have happened to the sub-regions of the Napa Valley? Would they have asserted themselves in terroiristic ways that would justify the use of their unique appellations as far more than simply a name of a town?
But playing a "what-if?" game calls for a few ground rules. First, we have to assume that the consumer would appreciate the suppler, more voluptuous Stags Leap style (which simply doesn't describe what Shafer is all about over the past decade or two); or would appreciate the "dusty" Rutherford or racier Yountville style, or the chewier and more tannic
Mount Veeder
style.
Do Consumers Want Substance Over Style?
Indeed, it wasn't long ago (the mid-to-late 1980s) when we still were able to witness some regional distinctiveness that was allowed to show through the processing. Alcohol levels were still in the 13 percent range; few had reached as high as 14 percent , and almost none were 15 percent . (The 1997 Bryant Family Cabernet Sauvignon weighed in at 15.5 percent alcohol.) Moreover, wine makers were fearful that if they made wines with pH levels in the 3.8 range, the wines wouldn't live beyond a year or two after release.
Had the various styles been allowed to assert themselves, we would have had a two-decade template on which to assess which regions delivered which stylistic bonus points. After all, it was a time when the various sub-appellations of the Napa Valley were desperately trying to assert themselves. Mondavi was developing not only an

READER FEEDBACK: To post your comments on this story, click here
Print this article  |  Email this article  |  More about Napa Valley  |  More from Dan Berger