---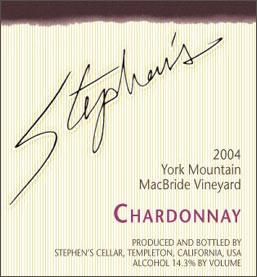 Stephen's Cellar
2004 Chardonnay, MacBride Vineyard
(York Mountain)
This delicious white, grown in MacBride Vineyard, offers appealing aromas of sweet, spicy oak. But on the palate, it tastes more of fragrant ripe pears and Pippin apples with hints of tropical fruit, beautifully enhanced with tangy lemon notes.

Winemaker Steve Goldman says that it's a departure from his former style, motivated by his preference for Chablis and other food friendly wines. He explained that he switched to modern winemaking techniques to retain more fruit flavors and crisp acidity.

The MacBride Vineyard, adjacent to Goldman's estate vineyard on York Mountain, has been an annual source for his Chardonnay for 25-years. Describing it as a unique hillside spot on alluvial soils, he says the non-irrigated vineyard is perched above two underground springs. The impressive result is a food-friendly wine that's wonderful with roasted poultry, all manner of seafood or roasted pork. Of course it also drinks quite easily alone. At $28 retail, there's great flavor in every value-priced sip.
Reviewed October 11, 2006 by Kathy Marcks-Hardesty.
---
Winery: Stephen's Cellar
Vineyard: MacBride Vineyard
Vintage: 2004
Wine: Chardonnay
Appellation: York Mountain
Grape: Chardonnay
Price: 750ml $28.00



Kathy Marcks-Hardesty

Kathy Marcks Hardesty is the former Tasting Coordinator for Wine Spectator magazine. She prefers wines that exhibit classic varietal characteristics, regional identity, and the depth and balance to make a good meal great. She's just as enthusiastic about sharing news of those rare, value-priced wines of good quality. Despite her past association with wine critics, she doesn't assign numbers to wines, save in her memory (old habits die hard). She prefers writing descriptive reviews that whet the palate and leaves the final score to her readers.