Monterey Conquers the Veggies
The Rich Diversity of the Monterey County Appellations
by Clark Smith
September 17, 2008
---

erhaps no other California region
is so stereotyped and stigmatized as Monterey County. The Salinas Valley's prolific vegetable farms, supplying everything from artichokes to zucchini, are emblematic of the aspect that defines the Monterey winemaking conversation. Veg. It's almost impossible to discuss wine with someone from this region without vegetal aromatics entering the conversation. These people are truly pyra-noid – obsessed with eliminating the pyrazines which imparted bell pepper and English pea aromas to the Monterey Cabernets and Sauvignon Blancs of the '70's.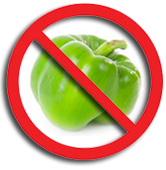 Yet, of the 130 wines assessed in this round of the
BEST-OF-APPELLATION
Evaluation, not a single wine was overtly veggie. There are herbal elements, distinctive and varied, which we included in the typical flavor profiles we compiled for several of the sub-regions, but the days of the Monterey veg bomb are over. Nevertheless, losing the veg, more than any other single impetus, defines the viticultural and winemaking choices that have shaped the wine styles of the County. The cooler areas have steered away from the Bordeaux varietals in favor of Pinot Noir, Chardonnay, Riesling and the like. Where Cabernet is grown, we see a preponderance of long hangtime wines (there's even a winery by that name) and whole berry fermentations as a method to mask the veggies with forward fruit aromas. The strawberry notes of Malbec are similarly employed in blends.
Monterey got off the ground during the table wine boom of early 1970's
, when a grower consortium hired Gallo-trained Beaulieu Vineyards veteran Dick Peterson to conquer this burgeoning source of coastal influenced cheap land, planting 9,600 acres of vineyards in the process.
It sounded easy. Unlike the inland San Joaquin Valley, believed to be too hot for premium table wines to be made, the Salina Valley had natural air conditioning. Each day throughout the summer, unfettered morning sunshine on the Valley's sand heats the air, creating a chimney effect which sucks in cooling air from the ocean. Peterson was confident that this natural bonanza could produce the crisp acidity and distinctive flavors he'd found lacking in the San Joaquin. In this he was certainly to prove correct.
Peterson's shrewd and experienced mind saw other advantages to the area. Monterey held a fertile desert with a huge underlying aquifer. Most of it was pancake flat with well-drained, sandy soils – cheap and easy to plant and farm, irrigate precisely and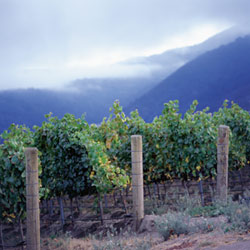 uniformly, and harvest mechanically. UC Davis degree-day formulations based on daily high and low temperatures classified the region as a match for Bordeaux. And viticultural had new secret weapon – advances at USDA in heat treatment techniques had just produced the world's first virus free rootstocks, which permitted wide scale plantings of healthy super-vines. All seemed aligned to produce vast quantities of affordable, high quality Cabernet Sauvignon on a par with Napa at Bakersfield costs.
Disaster ensued. What followed was a crash course in practical viticulture featuring Mother Nature as a stern professor handing out flunking grades and painful lessons. Winkler's degree-day system, devised after Prohibition as a first approximation using existing US Weather Bureau data, had never been extensively tested as a tool for evaluating new regions. It turned out that although the high temperatures tracked Yountville, the Salinas Valley was much cooler for most of the day.
Ripening was suppressed by other factors. The high afternoon winds had a strange effect on vines, causing them to protectively close their leaves' microscopic breathing ports (stomates). This shut down photosynthesis for much of the day, depriving vines of sugar while allowing pH's to rise, resulting in wines with crisp acid taste (TA) but poor longevity. North Coast buyers like ZD and Buena Vista, who had never seen wines with high pH and high TA together, produced wines of early high quality which quickly circled the bowl.
One more lesson: Grape physiology is geared toward green growth in the spring and reproduction in the autumn. Early in the season, grapes are flavored with vegetal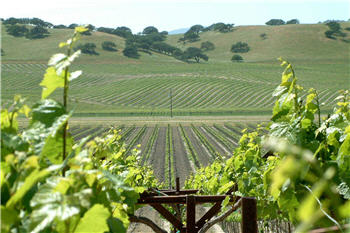 compounds to prevent birds from eating them until the seeds are mature enough to sprout. These veggies get turned off by the same mechanism that signals the production of berry flavors and red color: sunlight on the fruit. Shaded fruit stays veggie. So the first large scale planting of virus-free rootstock, farmed in the traditional California sprawl, led to plenty of acidity and distinctive flavors in the Cabernet alright – paint-stripping acidity and garbage can bell pepper.
But that was then, and this is now. We all need to just get over it - the winemakers, the consumers, and most important, the gatekeeper pundits who have kept the focus on this aspect long past its actuality, simply because they can't think past its outdated teachings. Who can say what cruel lessons were learned in two millennia of figuring out the vineyards of Europe? Before Bordeaux and Burgundy got it right, did people talk about the "Montrachet veggies?" Thank heaven for the Dark Ages – we don't need to know.
Monterey wines are not like this any more. In my view, the stigma they carry over-defines the current activities of winegrowers in the region, and residual "pyra-noia" may be holding them back from appearing powerfully on the world stage. Characteristics that persist here are freshness of fruit and ample acidity, together with a range of herbal aromatic constituents, which are more signatures of specific terroirs than signs of viticultural mismanagement. They need to be embraced as part of the region. The common practice of planting fast growing gum trees as windbreaks also frequently appears as part of the regional signature in a minty eucalyptol note. Beyond these generalities, whether the wine is a friendly quaffer or a thought provoking artistic statement depends a great deal on the scale on which it is made.
David and Goliath make wine
I
n Monterey County, perhaps more than any other place, the drama of big versus tiny, industrial vs artisanal, is played out in each vintage. Here, the small guys wield John Henry's hammer against the machine of factory farming. While it is easy to side with the personal attention of the boutique craftsman, recent and ongoing advances in precision viticulture are constantly being integrated by giant vineyard management companies, seeking to deal with the challenges of being big.

READER FEEDBACK: To post your comments on this story, click here
Print this article  |  Email this article  |  More about Monterey  |  More from Clark Smith