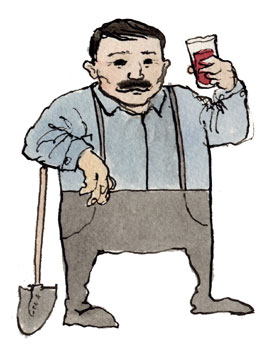 Bonarda
What a cheery little fellow you are, Senor Bonarda. We've seen you pushed to the limit, working the hot and arid fields of Italy and America. But all the while you've maintained your jovial disposition. You don't get to spend as much time with your longtime companion Barbera since arriving in America. But you seem to accept her North American independence. Of late, your American employers make fewer demands upon you. So enjoy your retirement Bonarda; you've earned it.

Appellations Growing Bonarda Grapes
Appellations producing the most Bonarda wines:
Bonarda

Some believe Bonarda, from northeastern Italy's Piedmont region, has been grown in California under the name Charbono. But now, this notion has largely been disproved. It would come as surprise to many, that Bonarda is the most widely planted varietal in Argentina, where it is highly regarded for its ability to produce juicy red wines. Traditionally, Bonarda, from Piedmont, was called upon as a workhorse variety. There it performs at its best when blended with the equally fruity, but more structured Barbera.