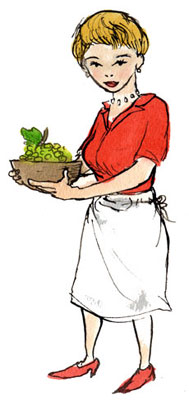 Burger
Mrs. Burger, you were a dutiful Central Valley mom
in the 1950s. You were ever reliable, ensuring that
your boys at the wineries were always well fed with
heaping portions of acid-rich fruit. As your boys
grew, they began to spend time with the more worldly
Chardonnay and Sauvignon Blanc. Now that the kids
have grown and ventured to the coast, you don't see
them as much as you would like. Don't worry Mrs. Burger,
if asked, they would fondly reminisce about how you
nurtured them as youths. Besides, you know that
they'll always come back home whenever they need a
well-balanced meal.

Appellations Growing Burger Grapes
Appellations producing the most Burger wines:
Burger (aka. Elbing, Monbaden)

How low this once mighty grape has fallen! There was a time when Burger produced more wine in California than any other single variety. In fact, Burger produced more wine in the Golden State than all other white varieties combined. However, Burger has plunged from its perch as the most planted vinifera variety in the pre-varietal revolution days. Today, it's a non-contender. Originally, Burger's capability to produce generous yields and its tolerance for hot and dry conditions gave it a niche in California's San Joaquin Valley. Its Central Valley plantings still play an important role in the jug wine and cooler market. Recent DNA investigations at UC Davis have revealed Burger to be the offspring of the Cognac grapes Ugni Blanc and Folle Blanc. This shouldn't be such a shock, considering its geographic origins in the Charentes department of France.