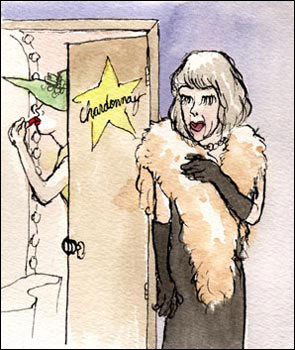 Clairette Blanche
You were once a grande dame on the southern French stage, but over time your act has gone out of style. The star roles are now played by more popular international starlets. Relegated to supporting roles, you spend your days cozying up to a bottle. Miss Clairette, this hard life you live has done nothing for your figure and seems to age you prematurely.

Appellations Growing Clairette Blanche Grapes
Appellations producing the most Clairette Blanche wines:
Clairette Blanche Grape Details
Clairette Blanche (aka. Clairette, Blanquette)

Clairette is a frequently used name for white grape varieties in southern France. According to Jancis Robinson, true Clairette Blanc is a "decidedly old-fashioned variety, producing slightly flabby, alcoholic wines that maderize easily." Clairette does well in dry, poor soils. Widely grown in South Africa, where it is referred to as Clairette Blanche, it is also planted in Tuscany, Sardinia, Romania, Israel, and in Australia's Hunter Valley, where it is quickly disappearing from vineyards.