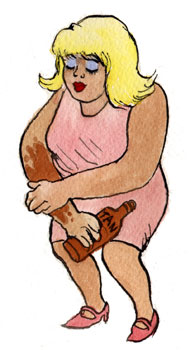 Doreen

Dear Ms.Doreen, your full figure isn't your
fault; its in your genes. All the members of
the Rotundifolia clan have a problem with their
weight. So don't try to hide under a cover of
woody make-up or be ashamed of your bronzed
hide. Afterall, beauty isn't skin deep, its
who you are inside. And you're definitely a
southern belle, whose very essence is sweet.

Appellations Growing Doreen Grapes
Appellations producing the most Doreen wines:
Doreen

Doreen is grown successfully in the United States' Gulf and southeastern states. Doreen's high natural sugar content makes it useful for sweet white wine, jelly and juice production. This Vitis rotundifolia (Muscadine) variety resulted from a Dixie x Higgins cross. This bronze-skinned grape generally ripens around mid-season.