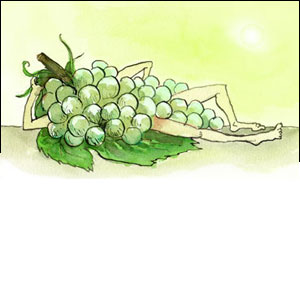 Dutchess
Considering the royal title bestowed upon you, it seems you have forsaken your North American vineyard holdings for a life of sunbathing in hot and humid Brazil. We hope you return to us someday. We are holding a seat at the vineyard table for you – our sweet, albeit tempermental New York princess.

Appellations Growing Dutchess Grapes
Appellations producing the most Dutchess wines:
Dutchess

Developed in the latter half of the 19th century in the Hudson River Region of New York on the historic vineyard site now home to Benmarl Winery. Today this white American hybrid variety primarily occupies the cool-climate areas of Ontario and the Finger Lakes region of New York State. Dutchess is typically used to make straight forward sweet and fruity wines. A Vitis vinifera and Vitis labrusca hybrid, the vine's relative lack of tolerance to cold has limited its plantings. Perhaps a reason why it has made an appearance in the notably warmer viticultural areas of Brazil.