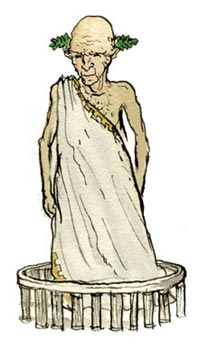 Elbing

Your frail figure doesn't convey the power
you once had. Once the leader of the Roman
Empire's vast holdings in Germany, you now
are the commanding voice of one of Europe's
postagestamp sized Monarchies. It seems the
strength of your voice must have changed
whilst you were losing all your land. The
only sound coming from your mouth is a
piercingly sour shrill.

Appellations Growing Elbing Grapes
Appellations producing the most Elbing wines:
Elbing (a.k.a Kleinberger, Weisser Silvaner)

This ancient white wine grape is mostly found in Germany's Mosel-Saar-Ruhr region where it is used to produce a dry, sparkling wine known as Sekt. Some believe that the variety known in California as Kleinberger Riesling is this same variety. With a history stretching back to Roman times, it was formerly the dominant variety of Luxembourg and medieval Germany. Much less important today, it still the most important variety in Luxembourg. Wine from this grape are general acidic, possess rather neutral flavor and low in alcohol. These qualities are excellent for sparkling wine production, but not necessarily the virtues of a grape destined for still wine.