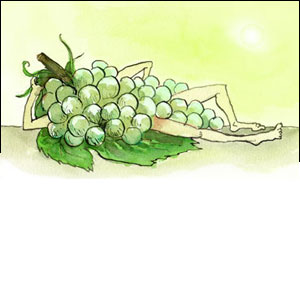 Muscadelle
My Varietal Character is still ripening. Please check back later.

Appellations Growing Muscadelle Grapes
Appellations producing the most Muscadelle wines:
Muscadelle (a.k.a. Muscadelle de Bordelais, Sauvignon Vert)

The white grape variety known as Sauvignon Vert in California, is probably Muscadelle. In any event, the grape in question has only tiny and declining acreages in the western state. The grape is grown in France's Gaillac region, southeast of Bordeaux, and used in sweet blends of white wine and some undistinguished dry white wines. Unrelated to the Muscat family, this early-ripening variety is disappearing from vineyards, although it is still widely grown in Eastern Europe. Only in one part of Australia does this grape excel. In the northeastern Victoria region it produces an exceptional sweet dessert wine known as the Liqueur Tokay of Australia.