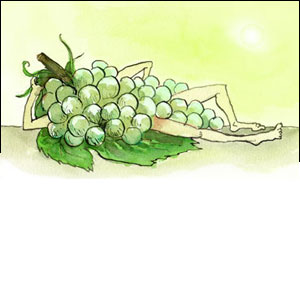 Okanagan Riesling
You have been labeled an impostor by the varietal police, known as the VQA. While it is true, you don't have any ties to Riesling, the monarch of the German Vinifera royal family, you do possess a sweet nature that reminds of us her. It's a shame you have spent the last twenty years on the run from the VQA – for the relative harmless crime of identity fraud. You were last spotted at a safe house known as the 'House of Rose Vineyards'. Lets hope they keep you safe.

Appellations Growing Okanagan Riesling Grapes
Appellations producing the most Okanagan Riesling wines:
Okanagan Riesling Grape Details
Okanagan Riesling (aka. BC Riesling, Inkameep Riesling)

Okanagan Riesling is a misleading name as this cultivar has no genetic relationship to the German (vinifera) Riesling. In fact, the exact lineage of the variety is questionable -- some believing it to be a cross of V. berlandieri x V. riparia with connections to Austria, while others speculating that it may be a Native American labrusca hybrid. Further confusion about the variety and its association to Riesling results from its popular use as a blending component in German-styled wines in the Liebfraumilch era of the 1970s.

A relatively early ripener (mid-September) makes Okanagan Riesling suitable for cool climate regions. However, in hot growing seasons, the variety is prone to undesirable 'foxy' labrusca flavours.