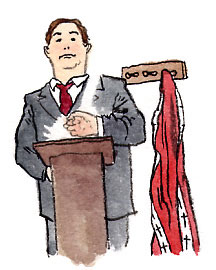 Sagrantino
You had been known to only a few devoted followers who enjoyed your sweet message at Passover. But, in recent years, you've donned a more secular appearance with a new oak suit, and a decidedly drier voice. To the uninitiated, your reincarnation might come across as fierce pontification. Given time, they will learn there is complexity and eloquence in your voice. Rest assured, if you continue to work with the influential image makers of Montefalco you will surely turn a new generation on to the 'religion of Sagrantino', even in the cult prone Napa Valley.

Appellations Growing Sagrantino Grapes
Appellations producing the most Sagrantino wines:
Sagrantino

This red grape variety grown in the hills of Umbria, Italy was destined for obscurity, if not for some forward thinking producers. Traditionally, Sagrantino grapes were laid out on straw mats to raisinate. The dried grapes were then used to make a sweet yet powerful and tannic red wine, usually served at Easter. When consumer demand for sweet wines waned in the 1970s and 80s, a number of progressive producers attempted to make dry red wines from the grape. Yields were restricted in the vineyard, and wines were aged before release to soften the rigid tannins and high acidity of the wines, allowing the rich fruit character of Sagrantino to shine.

The variety is made almost exclusively in the small DOCG known as Sagrantino di Montefalco. Here, producers such as Arnaldo Caprai are producing impressively powerful and tannic wines that are considered to be among the very best in Italy. Plantings in California are limited. However, given the grape's impressive potential, new plantings of this grape will surely rise.