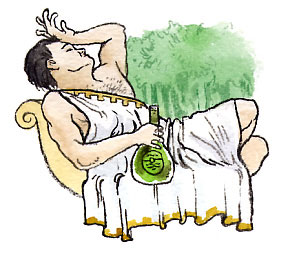 Silvaner
Lost is your great past and the place of worship you achieve, when you reigned in the sylvan woods. Your lineage has been sullied by the indiscreet reproduction of your offspring that do you no honor; your memory diluted by overemphasis on your fertility. Your power over the world has been diminished, but those who still believe in you, honor you with dedicated worship, and in Franken, you still live for the ages, in your rightful place.


Varietal Character by Jeffrey Pinhey
Appellations Growing Silvaner Grapes
Appellations producing the most Silvaner wines: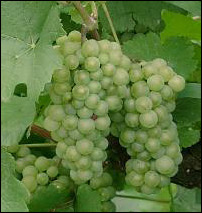 Silvaner (aka. Sylvaner, Grüner Silvaner, Sonoma Riesling, Osterreicher)

At one time the highly productive Silvaner was very popular in California, but it has given way to (Johannisberg) Riesling as tastes in wines have shifted. Although its current standing in New World vineyards is modest, with limited acres in California and Australia, it remains fairly widely planted in Germany, in France's Alsace region, and in central Europe. Germany has the most acres of Silvaner under vine, primarily in the Rheinhessen and Franken regions.

Known by many names, including Osterreicher and Sonoma Riesling, Silvaner is believed to have originated in what is now Austria. The vine is vigorous and high-yielding with highly acidic and early ripening grapes. It produces a subtly spicy, mild white wine, with floral flavors.

Due to its high yielding abilities, Silvaner was an important contributor to the prolific grape crossing program of Germany in the 20th century. Silvaner's illustrious role in parenting other grape varieties is now at least partly in doubt. Long believed to be one of the progenitors of Müller-Thurgau, it is now known to have no paternity claim on this successful cross. However, it is still considered to have been genetically involved in the crosses that led to many other commercially important and highly productive Germany varieties like Scheurebe, Bacchus and Optima.