Connor / Brennan Cellars: winery information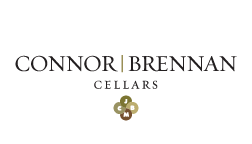 Winemaker: Matt Reidy
After several years of successful amateur winemaking, Matt entered the commercial winemaking arena in early 2004. The experience he gained in the intervening years has lead to many successes for his Connor Brennan Cellars Winery culminating in several industry awards for his Pinot Noirs and Syrahs. Matt also developed his Balinard Vineyard, a super premium Russian River Pinot Noir property located in the Russian River Valley. The land sits on a beautiful ridge near Occidental above the fog, tilting gently south with excellent exposure. This organic vineyard is perfectly suited to growing first class Pinot Noir and the first grapes for winemaking will be harvested fall of 2009.
Annual Production: 250 cases
Futures
For more information on our award winning wines please visit our website or look for Connor Brennan Cellars on Facebook
Estate Vineyard Acreage
Our Estate Balinard Vineyard is a three acre organic Pinot Noir property planted to clones Dijon 115, Calera and a special "suitcase" Vosne Romanee and is farmed to meet rigorous quality standards and is certified organic. The Dutton vineyard family prepared the land for planting, Greg Adams helped create the Balinard vineyard development plan and continues to monitor the vineyard's progress (Greg was the former vineyard manager for Flowers Vineyard and consults for some of the finest vineyards in the area) and Bacchus Vineyard Management planted and farms the property (they also farm the famous Amber Ridge Vineyard, Lynmar Vineyards and other super premium Pinot Noir vineyards in the area).
Grape Varieties Planted