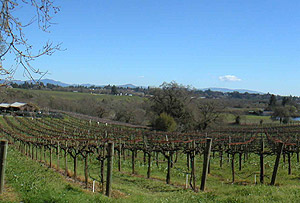 Green Valley of Russian River Valley
Green Valley Exploration
by Dan Berger, Regional Editor
"We simply have a better overall acidity than the typical Russian River Valley Chardonnay."
~ Greg LaFollette, DeLoach Vineyards
The morning of Monday Oct. 17th, saw the first sitting of the Green Valley Discovery Panel. The group of winemakers congregated at Hartford Court Winery to begin their exploration into the defining characteristics of their appellation, as reflected in the wines of the region. With AppellationAmerica's Regional Editor, Dan Berger, acting as moderator and recorder, the panel blind tasted Chardonnay and Pinot Noir from this small sub-appellation of the Russian River Valley AVA, and noted some interesting lines of commonality which can be considered the
signatures
of the appellation.
Green Valley Chardonnay:
Higher natural acidity and identifiable citrus elements are what mark Chardonnay from the Green Valley appellation. Tempering of the acidity through varying degrees of malolactic fermentation adds complexity to the wines without masking the typical fruit characteristics of the region.

Green Valley Pinot Noir:
Typically reserved when young, displaying a regional signature of delicate herbaceousness (dried herbs and tea) with a distinctive dried-berry nature of fruit.
Note
: to see how the panel arrived at these conclusions read the complete
Record of Proceedings
, including tasting notes for all wines designated
"Appellation Signature"
standing. (see below)
---
Profile of the Green Valley AVA:
Creation of the Green Valley appellation that is entirely contained within the confines of the larger Russian River Valley AVA was not done without a great deal of thought.
And the thought was rather simple: "My parents had a very sound reason for wanting to do this," said
Iron Horse
owner Joy Sterling. Her parents, Barry and Audrey Sterling, had lived in Paris (he as an international attorney) and bought their 110-acre ranch in 1974 after Rod Strong couldn't follow through on a lease-option he had on the property.
"They had a very sound reason for wanting to create something that was tightly delineated, and it stems from the experiences my parents had in Europe," said Joy.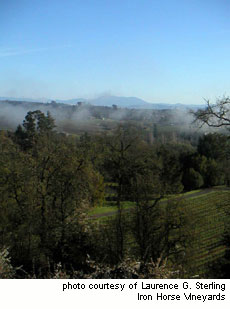 "There was no Russian River Valley appellation at the time, but I think we were on parallel courses." But she said that it was clear from the start that the smaller the appellation, the more meaningful it would be, and the greater Russian River appellation, though cool, was not as persistently cool as was Green Valley.
Sterling continued to say that the regional characteristics of the wines were "vital to the understanding people would have of them, and my parents were thoroughly convinced that a cooler climate was the most desirable place to make great, classic wine. That was not the conventional wisdom of the day."
Before the Sterlings purchased their property, Strong had assigned Forrest Tancer (who was then working at Sonoma Vineyards, later
Rodney Strong Vineyards
) to plant the Iron Horse ranch half and half to Chardonnay and Pinot Noir. The region had already proven successful for those grapes thanks to local grower Warren Dutton.
In 1976, Iron Horse was founded, the second property in the region. (The first, called Russian River Vineyards along the easterly Highway 116, later was acquired by Michael
Topolos
and has carried his name since.)
The Iron Horse winery opened in 1978, when Chardonnay was produced. "At the time, this was the most westerly vineyard in Sonoma County," said Sterling. "And the quest to have a Green Valley appellation was based on the desire to have a smaller, more focused boundary."
Although once within the scope of the original Green Valley appellation plan, the nearby property of Tom
Dehlinger
didn't quite fit when a closer look was taken. For one thing, Dehlinger has some south-facing (and thus warmer) portions of his ranch, and "also, his property is on the other side of 116," said Sterling. "And I don't know whether 116 should have been the natural boundary, but with the government [the TTB which approves appellations], roads typically trump geology."
Since the Dutton family was already heavily planted in the area, Iron Horse felt comfortable being the first major Green Valley "name" to develop a winery brand focusing on the Green Valley designation. "But Marimar [Torres] coming in was a huge boost for the area."
Marimar Torres
, whose family operates one of Spain's most successful wineries, moved to California in 1975 and by 1981 was sure she wanted to make wine, but "It was not easy to persuade my father that I was serious."
Torres said she looked for a property for two years before finding her ranch just the other side of a hill from Iron Horse. "And it was love at first sight," she says. "I had a viticulturist advising me, and he said that I could plant Chardonnay and Pinot Noir, but not much else. Well, I said,
That's all right with me. I love Pinot Noir.
"
"We began planting in 1986, but it took four years because I was doing my first book." Moreover, her brother Miguel Torres "was skeptical," she added. "The soils here are very different from those in Europe, and my brother said I spent too much money on this project." She paid $8,000 per acre.
"Yes, it was cold out here, and my brother was uneasy with this project, so I went to Davis for a year [in 1988], to learn what the challenges were."
Encouraged by Agustin Huneeus of
Franciscan
and assisted by wine maker Steve Test, who consultanted for her first vintage, Marimar Torres' inaugural vintage of Chardonnay was 1989. Planted later, the fist vintage of Pinot Noir would be the 1992.
"People may forget that, at the time, red wine was on the way down and Chardonnay was on the way up," she says.
"We have very fond memories of Marimar coming in here," says Sterling. "It's nearly 30 years since we founded our property, and now Green Valley is 'an overnight sensation' that was 25 years in the making."
Much to the detriment of the Green Valley appellation, there was another Green Valley in California, located just east of Napa County in Solano County. Wine grapes grow in that Green Valley as well, though it is nowhere near as prestigious. Since both appellation petitions were in the hands of the government at the same time, both petitions were approved with provisos.
The federal ruling allowed each region to use Green Valley, but both had to append their local county name. Thus wineries in the westernmost Green Valley region had to state "Green Valley of Sonoma County" on their labels. However, such a long appellation designation takes up a lot of (label) space, so some wineries simply have opted for the all-inclusive Russian River Valley as their appellation. (The Russian River also being an appellation with better 'name' recognition and market cache.)
However, the Green Valley of Sonoma County wineries have now petitioned the government to permit a name change to "Green Valley of Russian River Valley." The amended name is expected to be approved shortly.
Green Valley AVA varietal stats (2004)
: 3,673 total