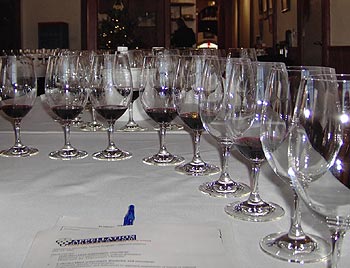 Missouri
The Character of Norton
by Tim Pingelton, Regional Editor
Missouri wineries tend to be small family owned and operated businesses. Even the largest winery in Missouri might, by national standards, be considered a "boutique" winery. As such, finished Norton in Missouri varies greatly by year and by winemaker.
While floral notes are not considered typical for Norton in general, this characteristic is relatively common in the Nortons of Missouri, along with high tannin levels and full fruit development that benefits from some degree of oak aging.
<!>
---
On the afternoon of Dec. 19, 2005, the Carriage Room in the
Vintage Restaurant
at Stone Hill Winery was full of winemakers. There were also lots and lots of Riedel glasses, each holding a couple of ounces of wine made from Missouri's most esteemed grape, the
Norton
(also known as Cynthiana). The overcast, blustery weather outside contrasted sharply with the well-lighted, warm comfort of the room inside. This collection of experienced palates had been assembled with the task of tasting a broad selection of Norton wines from all corners of the state. The purpose of the tasting was to determine what is the defining character of Norton from
Missouri
, and which of the state's wines best represent this character.
The five members of AppellationAmerica's Missouri Discovery Panel were eager to taste blind and evaluate Norton from across the state. A total of 17 wines with samples from each of Missouri's appellations were present. The wines covered all vintages from 2000 to 2004, but were primarily from '02 and '03.
Each panelist tasted each wine and completed an organoleptic checklist before coming together to share their impressions of the wines and what makes for a good Missouri Norton. After the preliminary discussion, the wine identities were disclosed along with technical growing and vinification details for each wine, sparking further debate and discussion. This last discussion was quite extended due to the relative lack of information on this interesting grape, the friendly relationships among the panelists, and hesitation about trading the complete comfort of the tasting room for the darkening coldness outside.
The following is a summary of the Panel's observations:
Floral aromas are not thought to be typical in Norton (that is, Norton grown and vinted in places like Virginia and Arkansas), but the Discovery Panel did favor those wines which exhibited this characteristic. The prevalence of floral aromas observed in Missouri Norton suggests that this is a distinct and desirable characteristic that can be attributed to the region.
While there does appear to be appellation variances, it was found that the finest examples from across the state were those that benefited from some oak aging. Furthermore, a curious balance is struck with high tannin and full fruit; that is, high astringency runs in tandem with "big fruit."
The tricky chemical make-up of Norton demands acute winemaking skills. This grape needs delicate handling and creative manipulation to reveal its elegant nature.
---
The Discovery Record of Proceedings
Perusing the technical vinification information provided by the winemakers shows wide variance in how each wine was handled from harvest to bottling. Vineyard labor is often difficult to find in Missouri, so harvests spanning a week or more are common. Picking lots are usually fermented separately and then blended prior to barrel aging. Fermentation temperatures are usually kept to mid-80°F or lower.
Technical data also revealed that malolactic fermentation had been induced in the most balanced wines. However, Norton grapes have up to three times the malic acid of other purple grapes, so malolactic fermentation in Norton rarely produces the pronounced buttery flavors that it commonly does in wines such as
Chardonnay
.
Another interesting aspect of Norton is that it yields juice with unusually high levels of suspended solids; this frequently results in faulty sugar readings in the vineyard. Meaning this native American grape must be worked in ways different from European viniferas. Grape species and production methods aside, a number of the wines in our tasting were certainly of a quality level comparable to expensive premium wines from the better known viniferas.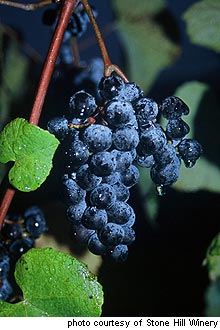 When asked what characterizes a good Norton, Robert Mueller (
Röbller Winery
) began by making the motion that floral tones are
not
typical for the varietal. This motion was seconded by Chuck Johnson, who quickly followed with, "but I like it."
Chuck Johnson favored the Nortons that struck a high astringency/high fruit flavor balance. For this, he spoke very highly of the Les Bourgeois Norton Premium Claret. He tasted "ripe berry fruit and oak tones of vanilla" and appreciated the "firm yet velvety tannins on the finish." He also found the nose to be of dried rose petals -- that floral characteristic thought to be unusual for Norton. Panelists passed around the idea that Missouri Norton carried these floral aromas more than Nortons from other states. It is unclear if low fermentation temperatures or terroir/climate are responsible for this very pleasing effect, but this floral characteristic was found to be a common thread through many of the wines.
Tony Kooyumjian (
Augusta Winery
,
Montelle Winery
) proffered his definition of Norton wine by throwing out another characteristic that should not predominate: nuttiness. A few of the wines tasted carried a walnut taste that bordered on bacterial fault. Another atypical taste observed by the panel was that of dill. In the field, Norton grapes frequently carry a vegetative or dill taste. However, if harvested when sugars are suitably high, this taste succumbs to a unique berry taste. With just the right amount of oak, the resulting wine is a brilliant deep purple, with a black currant or cherry nose and full-bodied complexity on the tongue, featuring that high tannin/fruit balance to a long finish.
Cory Bomgaars (
Les Bourgeois Winery
) found an indescribable quality in some Nortons he could only explain as "tarry", while other tasters noted pleasing earthy qualities in some wines. Indeed, proof of the organoleptic complexity of Norton came with how the earthiness, foxiness, and floral aromas of Norton manifested differently in the various wines.
Norton is not typically a wine for long-term aging; the color may dull and vegetal aromas might develop. Some Nortons up to 8 years old, however, do display amazing complexity and graceful balance. From a commercial viewpoint, Tony has noticed that many consumers pass by older Nortons, although he believes it does take a few years for the wine to "come into balance."
Norton also seems to reveal sulfur aromas more readily than many wines. These aromas might be caused by vineyard spraying or sulfites added to the wine to prevent bacteriological spoilage. Thus, crafting a fine Norton worthy of aging without over-sulfiting requires skillful winemaking.
Missouri winer