Sierra Foothills Rhone Varietals
Grow in Quality and Popularity
With numerous Best-of-Appellation awards bestowed to Sierra Foothill wineries for their Syrah, Viognier and other Rhone varietal wines, the spotlight shines brightly on this burgeoning region.



by Jean Deitz Sexton
May 16, 2008
---

here is a quiet revolution
underfoot in the
Sierra Foothills
. While Zinfandel has long defined the region as its noble grape, Foothills winemakers are embracing Syrah, Viognier and other Rhone grapes, and proving nicely that the Foothills can be more than Zin heaven.

The seeds of the revolution took hold in 1997 when
Sierra Vista Winery
owner John MacCready and Barry Bergman, winemaker of R.H. Phillips in the Dunnigan Hills area, formed the
Rhone Rangers
.
They had an informal Rhone cabal dating back to 1988 and decided it was time to create a formal group to educate the U.S. wine drinking public about Rhone style wines, says MacCready, their first president.
"In February, 1998, when we did the first tasting at Herbst Pavilion in San Francisco, people did not know Syrah or Viognier," recalls MacCready, "and Grenache had a bad rep from the Grenache Rosé days."
While the early Rhone Rangers movement was not confined to the Foothills, the early instigators were MacCready's Pleasant Valley winery in the
El Dorado
AVA, Indian Springs in Nevada County, Karly Winery in
Amador County
and Madrona Vineyards and Perry Creek, in El Dorado County. These vineyards literally put a stake in the ground to prove that Rhone varieties had a place in vineyards along the Western rim of the States.
Sierra Foothills remains the indisputable leader in Rhone varietals. Virtually every major AVA in the Foothills is now producing the most common red and dominant white Rhone varietals.
The first Rhone Rangers tasting featured more than 40 wineries and drew 200 to 300 participants, according to MacCready, who is now president emeritus. This year's tasting drew more than 150 wineries from California, Washington, Oregon, Idaho and other regions, close to 800 consumers, and an equal number of wine professionals, MacCready notes.
Today, MacCready says the Sierra Foothills remains the indisputable leader in Rhone varietals. Virtually every major AVA in the Foothills is now producing the most common red Rhone varietals – Syrah, Grenache and Mourvedre – and the dominant Whites: Viognier, Roussanne and Marsanne. Foothills growers are also cultivating Petite Sirah, Cinsault and some Grenache Blanc.
There's Wine Gold in Them There Hills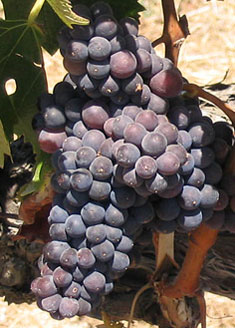 Foothills wineries are distinguishing themselves among tough-to-please wine judges as well. In the
APPELLATION AMERICA
Best-Of-Appellation Program, which focused on the wines of the Sierra Foothills, (held during March and April), more than a dozen Foothills Syrahs were singled out for excellence during the blind judging. Syrah is arguably making strides as a second signature Foothills grape after Zinfandel. One of the main reasons is that it is one tough little cookie of a grape. It can thrive in many types of soils, which makes it a perfect match for the Foothill's crazy quilt of soil conditions. Take, for example, C.G. Di Arie Vineyard's ambitious Syrah program, with Syrahs hailing from Fair Play, Amador County, and Sierra Foothills appellations judged to be among the Best-of-Appellation for each of those regions.
"Syrah is a very versatile variety and makes very different styles of wine depending on the terroir," says winemaker and
Fair Play
grower Marco Cappelli, who purchased the historic Herbert Vineyard. "In the Foothills, Syrah gives you dark blueberry and plum fruit and the minerality that comes from our decomposed granite soil." Of 13 acres planted, Cappelli has 2.5 acres planted to Syrah, three acres to Petite Sirah and 1.5 acres planted to Roussanne. The remaining six acres are Zinfandel. He is also winemaker for Miraflores, whose estate vineyard in Pleasant Valley produces, among other wines, 150 to 200 cases of an interesting "Methode Ancienne" Syrah in which they tread the grapes and there is no crushing or destemming. Cappelli describes the wine as having more spice and exotic qualities than other Foothills Syrahs.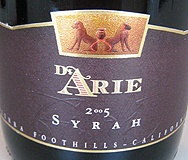 Foothills winemakers often draw comparisons between the climates of the Northern and Southern Rhone when explaining the logic of devoting acreage to Rhone varietals. "Our climate (El Dorado AVA) is identical to that of the Northern Rhone. It is essentially a cool growing region, at 1,200-feet elevation and higher, and works well for Syrah," says MacCready. He farms six of his 32 acres in Syrah and is excited about the new clones he is working with from the Northern Rhone valley. "These berries are half the size and spherical in shape and are producing a more intense, darker wine with more smokiness," he says. MacCready is blending his original clones with the newer ones, and producing Syrah that he describes as having a darker character, yet still fruity and with great structure.
In
Calaveras County
, Twisted Oak winemaker Scott Klann says the appellation is similar to the Southern Rhone. It is a hot, arid climate with a continental Mediterranean influence. The grapes grow in elevations ranging from 1,500 to 2,000 feet, a midpoint in the Foothills which enables constant air flow, cooling the vineyards down at night and giving the vines a chance to rest. It preserves acidity. Soils tend to vary in the 'geological chaos' that is the Foothills' hallmark. "You can have different soil strata 100 feet apart in the same vineyard block," says Klann. "The loamy and gravelly aspects of our soils are ideal for Rhone varietals because they are so well drained. We monitor the vines for stress very carefully since the soils are so well drained that the vines can lose water."
Syrah's Versatility Thrives in the Foothills
Another proof of Syrah's versatility is its expression in the
Shenandoah Valley
AVA, where
Montevina Winery
in Plymouth produces 5,000 cases of an estate Syrah - 3,500 under the Montevina label and 1,500 under the Terra D'Oro label, which offers a bigger, more complex style. Zinfandel remains the winery's stock in trade, at 90,000 to 100,000 cases produced of its total 250,000-case production. "Syrah does very well in the Foothills and shows the breadth of your appellation," says Montevina Vice President and General Manager Jeff Meyers.
The
Shenandoah Valley
AVA, at 1,600-feet elevation, is more consistent in soil, climate a

READER FEEDBACK: To post your comments on this story, click here
Print this article  |  Email this article  |  More about Sierra Foothills  |  More from Jean Deitz Sexton