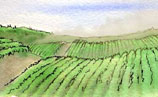 The unique Zinfandel grapes of California's Shenandoah Valley rescued this area from obscurity in the wine world. First settled during the Gold Rush by a group from Virginia, the valley produced wine in the late 1800s, but it did not experience a wine boom until well into the 20th century. During the 1960s and 1970s, most of the grapes were sold to jug wine producers. The first steps towards creating an individual identity began in the late 1970's, when Sutter Home Winery began using the Shenandoah's distinctive, heavy and jammy Zinfandel grapes to make a regionally-labeled wine. This put the Valley back on the wine map and in January, 1983, it gained appellation status. The AVA, which spreads into portions of Amador and El Dorado counties, encompasses 10,000 acres, with over 2,000 acres under vine. There are now 16 local wineries, while many of the large California producers continue to access Shenandoah Valley grapes on contract. Of course, the dominant and most highly-regarded grape here is Zinfandel. However, in recent years, there has been much work done with Syrah and producers have achieved remarkable results.

A Day in the (Rutherford) Dust
By
Barbara Trigg
August 2, 2013
While the early days of Napa Valley always mentioned the dust in summer, Rutherford Dust referred to an entirely different context. During a recent tasting in Napa Valley held by the Rutherford Dust Society a wide wide range of Rutherford wines shed new light on the long term meaning.  [>] continue

Whitehall Lane Winery, A 20 Year Story of Vineyards
By
Roger King
July 15, 2013

Embracing Virginia's Terroir
By
Richard Leahy
June 2, 2013

Shake Ridge Ranch - Gem of the Sierra
By
Roger King
May 16, 2013

HR9 Supports (CA) Historic Vineyard Society
By
Roger King
May 9, 2013

Tannat, Vibrant Across the America's
By
Barbara Trigg
May 6, 2013

Welcome Middleburg Virginia AVA
By
Roger King
January 4, 2013

Humboldt County: Is Too Much Terroir Possible?
By
Clark Smith
October 14, 2012