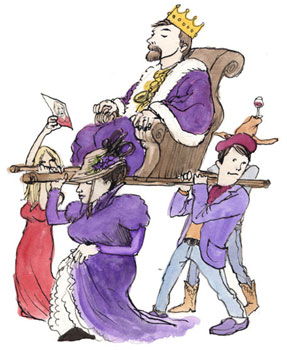 Cabernet Sauvignon
All hail the King! But a king doth not a gentleman make. A temperamental prince in youth, you're a thick-skinned brat with a bitter chip on your shoulder. The air of nobility only develops after a decade or more banished to a dark cellar. Your Bordeaux caretakers warned others of your tannic nature, but the image makers of California left you to your own devices. They spent decades of constant frustration trying to calm your aggressive nature. Finally heeding the advice of the Bordelaise, your New World guardians now employ the services of your perfumy cousin Cabernet Franc to teach you grace, and the sultry French consort Merlot, to teach you maturity. At last, your time has come. In a royal manner, you now rule over North America in a court known as 'Meritage'.

Appellations Growing Cabernet Sauvignon Grapes
Appellations producing the most Cabernet Sauvignon wines:
Cabernet Sauvignon Grape Details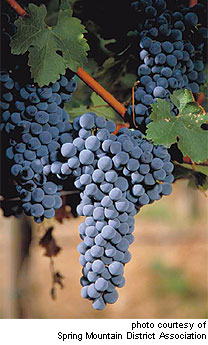 Cabernet Sauvignon (aka. Bouche, Bouchet, Petit-Bouchet, Petit-Cabernet, Petite Vidure, Sauvignon Rouge, Vidure)

Cabernet Sauvignon's California acreage has rocketed upward over the last four decades, soaring to 40,000 acres (and growing) from only 600 acres in the early 1960s. In California, and elsewhere, Cabernet Sauvignon has brilliantly adapted to much different climactic conditions than those of its rather temperamental and marginal Bordeaux homeland. Few would argue with the proposition that Cabernet Sauvignon is the noblest of all grape varieties, and, unquestionably, along with Chardonnay it is the world's most marketable wine variety. It is this marketability -- more than any real sense of ecological fit -- that explains Cabernet Sauvignon's spread to red wine regions around the globe. Renowned for its high levels of extract and tannin, with classic cassis and cedar characteristics, Cabernet Sauvignon also deserves its reputation for great longevity. This grape has actually been called "the varietal without faults." However, this is not totally true. Young wines made solely from this varietal are tightly structured, with unforgiving tannins. Knowing this, the vignerons of Bordeaux have long understood the need to blend Cabernet Sauvignon with complementary varieties, like Merlot and close cousin Cabernet Franc. This blending adds complexity and makes the wine more accessible. In California, it was not until well into the 1970s that winemakers began to recognize the merits of such blending, frustrated perhaps with the still-overpowering character of 100% Cabernet Sauvignon even after a decade of bottle age...and still "going strong"! The current popularity of California 'Meritage' blends reflects New World winemakers' belated understanding of what Cabernet Sauvignon needs to excel.

Livermore Valley
The New Old Livermore Valley
By
Laura Ness
Napa Valley
Arns Winery - Finds Its Place In Between
By
Alan Goldfarb

Oakville ~ Napa Valley
Napa Valley's future in the Cabs of tiny Tierra Roja
By
Alan Goldfarb

Texas Hill Country
From Tuscany to Provence in Texas Hill Country
By
Eleanor & Ray Heald

Mount Veeder ~ Napa Valley
Will Malbec Find a Home in the Napa Valley?
By
Alan Goldfarb

Stags Leap District ~ Napa Valley
Stags Leap District's
20th Anniversary Reveals its Appellation Distinctiveness
By
Dan Berger

Paso Robles
Is Paso Robles the Rhône Region of America?
By
Laura Ness