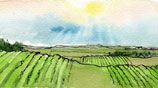 The name Temecula is derived from the native American description for the 'land where the sun shines through the mist'. The aptly named Temecula Valley viticultural area enjoys a unique climactic phenomenon. As the eastern valleys heat up, warm air rises, creating a low-pressure system. This helps draw cool misty Pacific air into the Temecula Valley through the Rainbow and Deluz gaps. The maritime influence refreshes the vineyards, effectively moderating the extreme heat of the southern California sun. The region's vineyards also benefit from their high natural elevation (most are close to 1,500 feet) and well drained decomposed granite soil. In the late 1990s, Pierce's disease plagued this Southern California AVA and vineyard acreage dramatically fell from 2,300 to 1,300 acres. Through the efforts of the USDA and the local winegrowers' association, the problem seems to have been turned around. A spin-off benefit from the disaster has seen vineyards being replanted to 'en vogue' red varietals less susceptible to the disease. And, a different sort of challenge to southern California's struggling 'Wine Country' has also come to a positive conclusion. Earlier this year the Allied Domecq conglomerate, owners of Callaway Winery and by far the largest vineyard owners in the AVA, announced their intention to rezone much of their vineyard land for a residential development. Although the conglomerate has sold 300 acres of land to a local developer, plans for construction include a sizable amount of land to remain as vineyard. The property close to Rancho California Road will be reserved for the construction of small wineries, ensuring that Temecula remains a wine tourist haven in southern California.

A Day in the (Rutherford) Dust
By
Barbara Trigg
August 2, 2013
While the early days of Napa Valley always mentioned the dust in summer, Rutherford Dust referred to an entirely different context. During a recent tasting in Napa Valley held by the Rutherford Dust Society a wide wide range of Rutherford wines shed new light on the long term meaning.  [>] continue

Whitehall Lane Winery, A 20 Year Story of Vineyards
By
Roger King
July 15, 2013

Embracing Virginia's Terroir
By
Richard Leahy
June 2, 2013

Shake Ridge Ranch - Gem of the Sierra
By
Roger King
May 16, 2013

HR9 Supports (CA) Historic Vineyard Society
By
Roger King
May 9, 2013

Tannat, Vibrant Across the America's
By
Barbara Trigg
May 6, 2013

Welcome Middleburg Virginia AVA
By
Roger King
January 4, 2013

Humboldt County: Is Too Much Terroir Possible?
By
Clark Smith
October 14, 2012