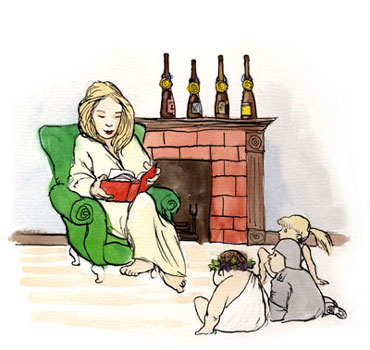 Riesling
You are the matriarch, though your numerous offspring rarely match your noble nature. You teach us to say words like 'trockenbeerenauslese' with reverence and pride. You approach every situation with grace and elegance, yet remain firm when the situation dictates. You bring balance to an unbalanced world of Chardonnayism. You are without question the Queen of the Rhineland, with a commonwealth extending to the far away lands of Australia, Canada and America. You are The Great Lady ~ La Grande Dame ~ Die Grossartige Frau!

Appellations Growing Riesling Grapes
Appellations producing the most Riesling wines: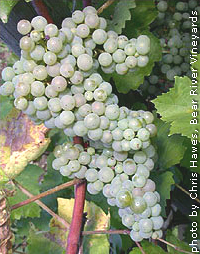 Riesling (aka. Johannisberg Riesling, Rhine Riesling, Riesling Renano, White Riesling)

Riesling gives wine lovers the finest example of the important complementary role that sugar and acid play in a wine's overall balance. Indeed, a great Riesling is exactly that, a stunningly graceful contrast between the two. Rounding out the package are the signature floral fruit characteristics that combine perfectly with the grape's natural sugar-acid balance. This gives Riesling the potential to age gracefully for years, becoming more supple and luxurious, with petrol-like qualities.

Riesling was a popular grape variety in the U.S. at the beginning of the varietal revolution, when American consumer preferences leaned toward off-dry whites. However, the Chardonnay bandwagon of the 1980s and 1990s dramatically changed Riesling's fortunes. At the beginning of the 1980s Riesling acreage in California peaked at over 11,000 acres. Since then consumer demand has dried-up, as fully fermented whites and reds began to draw more attention in North America. Riesling's decline in popularity in California is illustrated by the loss of over half of its total acreage during the last decade of the 20th century. Fortunately, this noblest of varieties is recently on the rebound and worldwide interest is again growing for Riesling wines from a wide range of appellations, Old World and New, Northern and Southern hemisphere.

Today, Monterey County's cool-climate areas and its long growing season produce good amounts of characterful, varietal Riesling. Outside of its chilly Rhine homeland in Germany, Riesling has shown the ability to maintain its acids in warmer climes, as the grapes reach a ripeness almost never achieved in Germany. This combination of ripe, developed fruit, coupled with acidity, makes California Riesling a unique style. A good Riesling from Arroyo Seco will display the typical fresh floral traits, but often adds the lushness of peach-like aromas. Though sufficiently present, Riesling's brisk natural acidity is less prominent in these higher-alcohol California wines, which are also more greatly extracted than in their notably leaner German counterparts. In cold-climate regions of the New World, Riesling has been of obvious interest, most particularly in Washington State, where early on it was considered their best vinifera prospect. Riesling is also performing exceptionally well in New York's Finger Lakes region, and Michigan's northern appellations of Old Mission and Leelanau, as well as in Canada's Niagara and Okanagan regions, and to some extent in soggy Oregon.

In the Old World Riesling is treasured by German winemakers and drinkers as their noblest variety, but in many years it has difficulty ripening in all but the best vineyard locations. Just over the border, in France's Alsace region, Riesling is also considered one of the noblest of vines. The warmer, drier and sunny Alsatian climate makes distinctively different Riesling than in Germany. It is fuller-bodied, more intensely fruity and dry to the palate. Down Under, Riesling is connected to the German heritage of South Australia's Barossa Valley, and was for years the most important white variety in Australia, vinified into a wonderfully unique, sturdier style of the wine. Today the most highly sought after of Australian Rieslings are grown in the hills of Eden Valley and in the higher altitudes of the Clare Valley.

At the sweet extreme of the spectrum, Riesling is responsible for many of the world's best dessert wines. Somewhat prone to Botrytis cinerea (aka 'noble rot)', Riesling in some vintages makes sweet wines classified as Beerenauslese and Trockenbeerenauslese in Germany, Vendages Tardives and Selectiones de Grains Nobles in Alsace. There are also some excellent late harvest examples (some botrytised) from both California and Australia. An alternate method of producing the unctuously sweet Riesling employed in both Germany and Canada is to keep the fruit on the vine well into winter for the production of Eiswein (or Icewine) harvested from solidly-frozen grapes.

Much attention has been paid to Riesling's good genes in the clonal selection and hybridization programs in both Germany and UC Davis. Currently over 50 clonal variants are identified, and a host of popular Riesling hybrids are in cultivation including the veteran Müller Thurgau, followed by the more recent Scheurebe, Kerner, Optima, Bacchus, etc. Each hybrid offspring is generally true to Riesling's character, but shows varying preferences for soils and climates, making them potentially viable in a wide range of locations.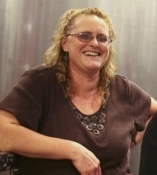 Lehigh Valley
New AVA calls to Manhattanites for a Day in the Wine Country
By
Clark Smith

Finger Lakes
The Mysteries of the Finger Lakes Terroir
By
Lenn Thompson

America
Riesling's Popularity on the Rise
By
Dan Berger

Anderson Valley
Alsace Wines Fested in Anderson Valley
By
Dan Berger

Monterey
Monterey Hones Its Identity
By
Laurie Daniel