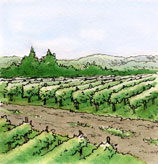 West Virginia, otherwise known as 'The Mountain State', has a mix of elevations and climates, allowing it to grow a wide variety of grapes. The state hosts 11 wineries and portions of three AVAs: the Kanawha River Valley, Ohio River Valley and the Shenandoah Valley. The wineries are spread throughout all corners of the state. The largest winery, Daniel Vineyards, is located in the state's southwestern corner. Due to winter kill, most of the vines are French-American hybrids, with just a small fraction devoted to Vitis vinifera. A notable exception to this is the Potomac Highlands area, in the state's northeast corner, where Riesling is successfully grown. This area has four operating wineries benefiting from rolling hills, shale soil and an average rainfall of only 16 inches (making it one of the WV's driest areas). The area is often compared to Germany's Mosel Valley and the region proves that distinct viticultural areas exist in West Virginia beyond the designated AVAs.

WAWGG Banquet Explores Washington State Terrior
By
Roger King
February 2, 2014
The multiple appellations of Washington will be tasted in a unique banquet dinner at this years Washington Association of Wine Grape Growers Annual Meeting and Trade Show. Nuances of that regional diversity have been paired with the meal being prepared by Chef Dan Carr.  [>] continue

Taking Focus on Appellation
By
Clark Smith
December 9, 2013

Whitehall Lane Winery, A 20 Year Story of Vineyards
By
Roger King
July 15, 2013

Embracing Virginia's Terroir
By
Richard Leahy
June 2, 2013

Shake Ridge Ranch - Gem of the Sierra
By
Roger King
May 16, 2013

Tannat, Vibrant Across the America's
By
Barbara Trigg
May 6, 2013

Welcome Middleburg Virginia AVA
By
Roger King
January 4, 2013

Humboldt County: Is Too Much Terroir Possible?
By
Clark Smith
October 14, 2012