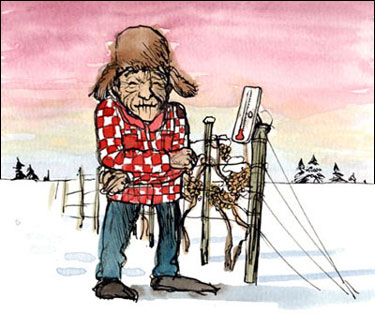 Vidal Blanc
You are quite a hero in Canada, eh! As Ice Wine, Canadians understand you as much as they understand the phrase "Could you please pass me a serviette, I just spilled my poutine." You are a great companion for maple sugar cookies - after a good bottle of Moose of course. Since Canada's four seasons are Winter, Still Winter, Almost Winter and, of course, Construction, you are well suited for dem cold nights. While most folks are on the chesterfield wearing toques and watching Hockey Night in Canada, you are outside, gettin' sweet and waiting for -8 degrees Celsius to come (sometime, late in Almost Winter). Just a few sips of your golden syrup can be the price of a couple 2-4s; sure not priced for one who's drawing pogey. Vidal, you are the sacred sap, the elegant essence, the Nectar of the North!

Appellations Growing Vidal Blanc Grapes
Appellations producing the most Vidal Blanc wines:
Vidal Blanc Grape Details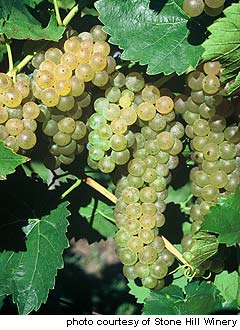 Vidal Blanc

Vidal Blanc has proven to be amongst the versatile varietals in North American viticulture. In Canadian vineyards, this hybrid has excelled in the production of Ice Wine, from Nova Scotia to British Columbia. This has earned Vidal superior status among all other French-American hybrids. In Canada's fledgling, quality wine-classification system, the Vintner's Quality Alliance (VQA), it is the only hybrid entitled to the highest category of quality. This is the Designated Viticultural Area (DVA) status. However, this honor is reserved for its Ice Wine incarnation only. The grape is well suited to cold climates, due to its mid-season ripening and its ability to produce good crops from secondary buds, in the event of late spring frosts. This makes Vidal tough enough to withstand the cold of regions like the Finger Lakes of New York State, many Mid-Western states and the Niagara Peninsula. Vidal is one of the commercially-successful hybrid products of prolific French (Bordeaux) hybridizer Albert Seibel (1844-1936). Its parents are the ubiquitous vinifera Ugni Blanc (Trebbiano), and early French American hybrid Rayon d'Or. Vidal's high, natural acidity makes it suitable for a wide range of styles, from light and crisp with racy acid, to slightly off-dry, to Ice Wine. In Ice Wines, Vidal's acidity makes a natural partner for anything from slight to unctuous residual sugar. The grape produces large clusters of thick-skinned berries, and ultimately, wines with fruity floral characteristics.

Lake Michigan Shore
No Citrus But Loads of Intriguing Wines at Lemon Creek Winery
By
Eleanor & Ray Heald

Lake Michigan Shore
Contessa Wine Cellars:
Where Hybrid Grapes are King
By
Eleanor & Ray Heald

Lehigh Valley
The Lowdown
on the New Lehigh Valley AVA
By
David Falchek

Nova Scotia
A Bridge Not Too Far
By
Craig Pinhey

Niagara Peninsula
The Blues Brother Drinks Red and White:
Dan Aykroyd Builds a Canadian Winery
By
Tony Aspler

Niagara Escarpment (NY)
Arrowhead Spring Vineyard:
Winemaking Where the Niagara Falls
By
Lenn Thompson