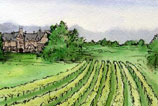 With a grape-growing history of several hundred years, North Carolina developed America's first cultivated wine grape, the aromatic Scuppernong, which produces sweet juice. The state's wine industry now emphasizes the Vitis vinifera, French-American hybrid and labrusca varieties. North Carolina has three very distinct physical regions. In the mountainous northwest, the climate is cool to warm, depending on elevation, which ranges from 1,000-6,000 feet. Soils are rocky and sedimentary in origin. While the higher elevations of the peaks aren't suitable for grape growing, they form wind barriers which help regulate temperature and moisture. Eastward is the Piedmont region, full of rolling hills and valleys. The temperature here is warm to hot, with an extended growing season. Piedmont soils, as in other areas of the state, are mainly sedimentary rock dating back hundreds of millions of years. The third region, the hot, mostly flat coastal plain, has sandy soils with some clay and very little rock. In North Carolina, "Muscadine-grows-mainly-on-the-plain", but it is impossible to grow vinifera grapes in these parts.

Whitehall Lane Winery, A 20 Year Story of Vineyards
By
Roger King
July 15, 2013
From initial vineyard plantings on Whitehall Lane in the 1800's the evolution to today's Whitehall Lane Winery has been a story of vineyard. The first 25 acre vineyard property is the winery site, yet the definition of multiple Napa Valley sub appellations is formed in a wide ranging set of vineyards all showing unique profile and character in their wines.  [>] continue

Embracing Virginia's Terroir
By
Richard Leahy
June 2, 2013

Shake Ridge Ranch - Gem of the Sierra
By
Roger King
May 16, 2013

Tannat, Vibrant Across the America's
By
Barbara Trigg
May 6, 2013

Welcome Middleburg Virginia AVA
By
Roger King
January 4, 2013

Humboldt County: Is Too Much Terroir Possible?
By
Clark Smith
October 14, 2012

Historic Buena Vista Winery Restored
By
Barbara Trigg
September 18, 2012

Three Days in Humboldt County and Willow Creek
By
Barbara Trigg
August 22, 2012