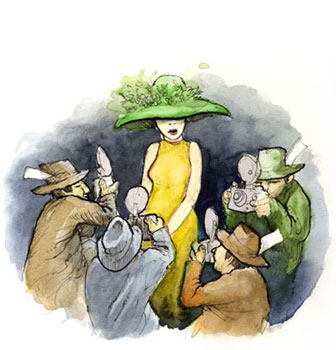 Chardonnay
You are the world's greatest star. Your fame has infiltrated every nook and cranny of the globe, regardless of culture. Your public persona is often the creation of zealous image consultants. They alter your visage with a woody makeup, and drape your body with the designer apparel of Malolactic and Sur-Lees. Being on top is never easy, and the jealous backlash that calls itself 'ABC' is an insult to your greatness. Rare glimpses of your true personality reveal angular cheekbones underneath all the makeup, and steely eyes that can be sharp and engaging. With your tall stature and broad shoulders, you are capable of carrying any style. So: "Lights, camera … action!" Chardonnay, your fans await.

Appellations Growing Chardonnay Grapes
Appellations producing the most Chardonnay wines: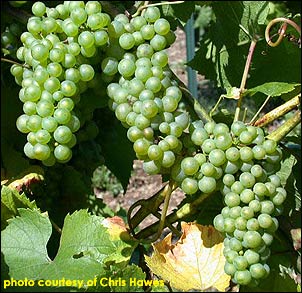 Chardonnay (aka. Beaunois, Morillon)

Chardonnay is by far the most widely planted grape crop in California, comprising over 40% of all white varieties crushed in the state in 2000. Chardonnay dominates not only California's cooler, coastal, quality wine regions, but also its hot, dry, bulk-producing areas. There is little doubt that this grape's popularity during the 'varietal revolution' has made acreage of less fashionable grape names such as French Colombard, Chenin Blanc, and even Thompson Seedless vulnerable to the noble Chardonnay. Its dominance is clearly evident by being known colloquially to the wine buying public simply as "Chard."

In the sizzling and parched Central Valley, Chardonnay has become a leading component of that region's bulk wine production. However, Chardonnay tends to lose acidity rapidly as grapes reach ripeness. This means that growers and winemakers in these warmer regions must keep a keen eye not just on sugars, but also on acids. The impressive natural bulk of Chardonnay can easily turn 'clumsy and dumb' without suitable levels of balancing acidity.

Chardonnay is also noteworthy in more northerly parts of North America such as Oregon, Washington and more recently, British Columbia. Even in the colder northeastern regions, Chardonnay is proving not just viable, but impressive. Long Island, the Finger Lakes and the Niagara Peninsula all demonstrate that many of their best white table wines are Chardonnay, produced in a leaner, crisper style. This style has become increasingly fashionable, as the popularity pendulum swings from heavy oak to fresher versions.

The natural varietal 'taste and smell' of Chardonnay is surprisingly unfamiliar to many wine drinkers, as its true character is often guised with dominating winemaking signatures. Chardonnay's rather subdued primary fruit characteristics lean toward the crisp fruitiness of apples, pears, and lemon, but the variety's full body is capable of supporting a host of complementary characteristics, such as oak, butter, and vanilla. Thus, in an effort to reproduce the great whites of Burgundy, Chardonnay has often been subjected to excessive oak fermentation and/or aging, sur-lees treatment, and malo-lactic fermentation. Many such wines all but lose their varietal and regional signatures, succumbing to the external characteristics added by the winemaker. By the mid-1980s, so popular had the style of the heavily-oaked Chardonnay become that in its wake, many less capable varieties were subjected to similar winemaking methods, usually with poor results. A backlash against the heavy-oak style, unfairly coined the 'ABC' fad (Anything But Chard) has seen some of the most oak-laden wines of places like California and Australia become more moderate in recent vintages.

Regardless of what is the appropriate style for Chardonnay, the varietal continues to dominate vineyard plantings in every corner of the world. Close attention to clonal selection has made this broad geographic and climactic range of Chardonnay viable in thoughtful viticultural hands.

Livermore Valley
The New Old Livermore Valley
By
Laura Ness

Russian River Valley
THE ABCS of J
By
Rosina T. Wilson
Leelanau Peninsula
Circa Estate Winery Attempts Timelessness
By
Eleanor & Ray Heald

Green Valley of Russian River Valley
Iron Horse: Everything Old is New Again.

Really.
By
Dan Berger

Hamptons Long Island
So Many Grapes, So Little Land to Grow Them On
By
Roger Morris

Sonoma Valley
Nicholson Ranch: A Marriage of Three Sonoma Appellations
By
Rosina T. Wilson

Russian River Valley
Russian River Valley Chardonnay Gets Its Dew
By
Dan Berger