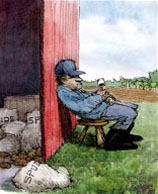 More often associated with potatoes than grapes, Idaho has a long history of viticulture. In fact, the first vineyards in the Pacific Northwest were planted here in the 1870s. By the turn of the century, Idaho was known nationally as a producer of fine wines. After Prohibition destroyed viticulture in America, grapes were commercially reintroduced to Idaho in the 1970s, mostly in the Snake River Valley where the latitude is on a par with the South of France. Idaho has cold winters, but a moderate growing season, with a combination of cold nights and warm days. Also, the Snake River area has an extended fall that enables the grapes to mature fully.

Grape varieties planted in Idaho range from Riesling, Lemberger and Pinot Noir, to Cabernet Sauvignon, Chardonnay and Zinfandel - all in just over 2000 acres of vines. Idaho has the potential to be a viticultural star.

WAWGG Banquet Explores Washington State Terrior
By
Roger King
February 2, 2014
The multiple appellations of Washington will be tasted in a unique banquet dinner at this years Washington Association of Wine Grape Growers Annual Meeting and Trade Show. Nuances of that regional diversity have been paired with the meal being prepared by Chef Dan Carr.  [>] continue

Taking Focus on Appellation
By
Clark Smith
December 9, 2013

Whitehall Lane Winery, A 20 Year Story of Vineyards
By
Roger King
July 15, 2013

Embracing Virginia's Terroir
By
Richard Leahy
June 2, 2013

Shake Ridge Ranch - Gem of the Sierra
By
Roger King
May 16, 2013

Tannat, Vibrant Across the America's
By
Barbara Trigg
May 6, 2013

Welcome Middleburg Virginia AVA
By
Roger King
January 4, 2013

Humboldt County: Is Too Much Terroir Possible?
By
Clark Smith
October 14, 2012