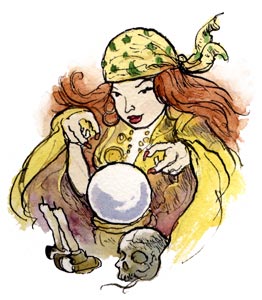 Gewurztraminer
You are an exotic sorceress - a gypsy no less - with red skin and a spicy attitude to match. Your forward nature keeps us intoxicated. You are best known for your ethereal Alsatian seances, but you cast your spell everywhere you travel. A fortune teller of the vine, you offer sweet perfumed visions that have surprisingly dry and bitter finishes.

Appellations Growing Gewurztraminer Grapes
Appellations producing the most Gewurztraminer wines:
Gewurztraminer Grape Details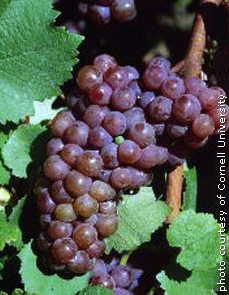 Gewürztraminer (aka. Traminer, Traminer Musque)

Gewürztraminer's direct and obvious charm has made it a popular varietal in almost every corner of the wine world. Excellent examples of 'New World' Gewürztraminer have emerged from British Columbia, Oregon, Washington State and in New Zealand, as well as from cooler microclimates in California and Australia. In Europe, distinct and interesting wines are Gewürztraminer based wines are produced in Austria, Germany, and northern Italy. The literal translation of the prefix (Gewürz) is 'spice', and its suffix (Traminer) refers to the Traminer grape, which was widely grown around the northern Italian town of Tramin until the 16th century. Although its origins are Italian, it is the 'red'-skinned form of Traminer, known to the world as Gewürztraminer that have placed it on the world stage. The greatest Gewürztraminer vines are found along the slopes of the Vosgnes Mountains, in France's Alsace region. Gewürztraminer bottled as a single varietal produces wines with highly complex aromatic qualities and high natural alcohol. One of Alsace's 'noble' varietals, along with Pinot Gris, Riesling and Muscat, Gewürztraminer at its best is in a class of its own. Wines are often full of exotic fruit such as lychee and rose petals. They also have a full, rich 'oily' mouth feel, with dry, acid finishes. If 'Gewürz' is grown in warmer climates, there is tendency to be cloying and lose varietal character, and in very cold climates the wines tend to be oddly neutral to grapefruit like.

Anderson Valley
Alsace Wines Fested in Anderson Valley
By
Dan Berger

Lake Michigan Shore
No Citrus But Loads of Intriguing Wines at Lemon Creek Winery
By
Eleanor & Ray Heald

Old Mission Peninsula
Bowers Harbor: The Focused Evolution of a Michigan Vineyard
By
Eleanor & Ray Heald

Russian River Valley
Arista Winery is Pinot Noir
Ground Zero
By
Michael Lasky

Okanagan Valley
Gray Monk Estate –
Winery as Terroir
By
John Schreiner

Old Mission Peninsula
Left Foot Charley
A New-Wave Model For Michigan
By
Eleanor & Ray Heald