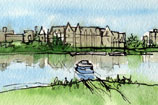 British Columbia's most recent DVA is Vancouver Island, a 250-mile-long isle which hosts a fast growing number of wineries, and distinctly different growing conditions from the province's main region, the Okanagan Valley. Just a short ferry ride from the hustle and bustle of downtown Vancouver and about an hour's drive north of the capital city Victoria, lie the island's hillside vineyards. Most of the wineries are located in the Cowichan Valley on the island's eastern side, along with a number of other wineries found on some of the smaller Gulf Islands, and technically outside the DVA. Rainfall is minimal during the growing season, with moderate summer temperatures (usually between 75-80ºF) and winters which are notably mild. So mild are the winters that Vancouver Island is one the few places in Canada where it is not possible to make Icewine within the VQA regulations. The valley area wineries, near the town of Duncan, are 50 miles from the extreme weather of the Pacific. They are protected by the Vancouver Island Ranges, rising to 2,500 feet, sheltering the vineyards from ocean storms. The wines from this area show rich fruit flavors and softer acids. The soil is a mixture of mainly limestone and sand, with some clay, a result of the glacial ebb more than 10,000 years ago.

WAWGG Banquet Explores Washington State Terrior
By
Roger King
February 2, 2014
The multiple appellations of Washington will be tasted in a unique banquet dinner at this years Washington Association of Wine Grape Growers Annual Meeting and Trade Show. Nuances of that regional diversity have been paired with the meal being prepared by Chef Dan Carr.  [>] continue

Harry von Wolff (1934-2005)
By
John Schreiner
December 28, 2005
[>] see all Vancouver Island features (1)

Taking Focus on Appellation
By
Clark Smith
December 9, 2013

Embracing Virginia's Terroir
By
Richard Leahy
June 2, 2013

Shake Ridge Ranch - Gem of the Sierra
By
Roger King
May 16, 2013

Tannat, Vibrant Across the America's
By
Barbara Trigg
May 6, 2013

Welcome Middleburg Virginia AVA
By
Roger King
January 4, 2013

Humboldt County: Is Too Much Terroir Possible?
By
Clark Smith
October 14, 2012