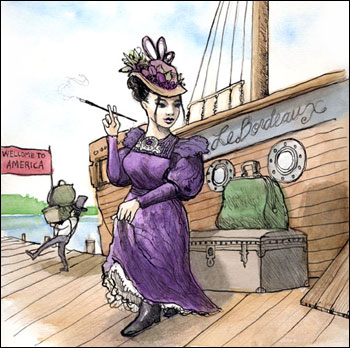 Merlot
Madame Merlot, you're a big gal, soft and smoky; how we love your full, curvaceous figure. But you are so much more than simply a voluptuous pinup girl from Bordeaux. You carry yourself with a demeanor of maturity always ahead of your age. Perhaps it is your ever amiable and generous nature that makes you the perfect companion for the acid-tongued Cabernet Sauvignon. You smooth the rough edges he's so prone to in his youth, making him more presentable to polite society. Your relocation to the New World was a little belated, but how pleased we are to see you now comfortably in residence, everywhere from Long Island to the Napa Valley.

Appellations Growing Merlot Grapes
Appellations producing the most Merlot wines: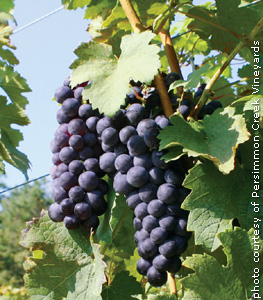 Merlot (aka. Petit Merle, Vitraille, Bigney, Crabutet Noir)

Merlot is a noble, rich and plump transplant from the wealthiest of Bordeaux estates, but it has been slow to catch on in New World wine regions, except for California, Washington and a scattering of other states. In California, consumer interest in discovering a serious red varietal other than Cabernet Sauvignon eventually sparked an exponential increase in acreage. By the year 2000, total tonnage of Merlot crushed in the state inched towards that of Cabernet (CS's 357 k compared to Merlot's 305 k).

The key to growing Merlot in California is choosing locations with slow ripening and picking the grape before acidity declines. Napa, Sonoma, Carneros and Santa Barbara all produce Merlot successfully. In Washington State, within the Columbia and Yakima Valleys, there is just the right combination of a moderate, but dry growing season for Merlot to exhibit its best qualities. Merlot's tolerance to cooler growing conditions as the grapes ripen in mid-season has made it a wise and successful choice in Washington State and on NY's Long Island. Cool and damp Oregon, however, has had trouble with Merlot in spring due to poor fruit set, and in autumn with mildew and rot. In warmer conditions Merlot can turn flabby and sluggish, as malic acid tends to respire quickly.

Even though Cabernet Sauvignon is generally regarded as 'THE' red Bordeaux grape, it is actually second in total acreage and only plays a dominant role in the wines of the Medoc and Grave. In St. Emilion and Pomerol, as well as in Bourg, Blaye, Fronsac and even the white wine district of Entre Deux Mers, Merlot is the favored grape. On average, it is two-thirds of the blend, compared to one-quarter in the Medoc. On the right bank of the Gironde estuary, the early-ripening Merlot is better suited to the heavier, damper soils and the shorter growing season. Interestingly, the Bordeaux wine that perennially fetches the most staggeringly high price is a wine as close to pure Merlot as it gets for Bordeaux - Chateau Petrus.

Merlot plays the luscious role in the blended wines of Bordeaux, adding forward plummy, fruity richness to more austere qualities of Cabernet Sauvignon. More supple, with higher alcohol and softer tannin, Merlot is often more approachable in youth than Cabernet Sauvignon. It adds richness to the hard edges – putting meat on the bony structure of Cabernet. Petrus's reputation on the auction block, notwithstanding, it is Cabernet Sauvignon that gets more attention from the rest of the world. Even though Merlot has a voluptuous character, because of its willingness to yield generously, it is vulnerable to being turned into rather dilute and characterless wines. This is often the case of wines from the lower, more fertile vineyards of the broad St. Emilion appellation, and more particularly in northeastern Italian zones, like Piave and Colli Berici. Merlot plays an important role as a varietal and as a blending grape in the Balkan States and Eastern Europe, particularly in Hungary. It is also being planted in increasing amounts in the southern hemisphere: South Africa, Australia and South America. In the antipodes, New Zealand may be best suited climatically to explore Merlot more seriously.

Livermore Valley
The New Old Livermore Valley
By
Laura Ness

Bennett Valley
MATANZAS CREEK
By
Alan Goldfarb

Hamptons Long Island
So Many Grapes, So Little Land to Grow Them On
By
Roger Morris

North Fork of Long Island
Long Island's North Fork Loves Merlot – But Do the Two Want to Get Married?
By
Roger Morris

Texas Hill Country
From Tuscany to Provence in Texas Hill Country
By
Eleanor & Ray Heald

Paso Robles
Deep Roots In Paso:
Growing the Future at Halter Ranch
By
Laura Ness

Rutherford ~ Napa Valley
Legendary Vineyard Bella Oaks Sold
By
Alan Goldfarb

Lake Michigan Shore
No Citrus But Loads of Intriguing Wines at Lemon Creek Winery
By
Eleanor & Ray Heald

Santa Ynez Valley
Gainey Vineyard
Runs Hot and Cold*
By
Dennis Schaefer