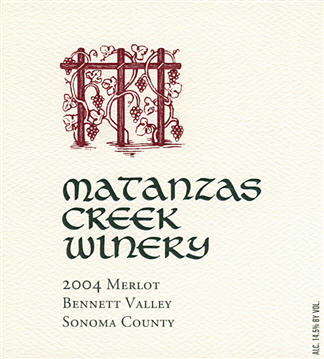 MATANZAS CREEK
Alan Goldfarb talks with one of the original owners of Matanzas Creek Winery and with the current winemaker to get the past and current perspective of the renown Bennett Valley winery.
by Alan Goldfarb
July 31, 2009
---
atanzas Creek's wines in 2009 are decidedly not Sandra and Bill MacIver's wines of the 1990s.
For one, the vineyard that was instrumental in putting world-class
Merlot
on the American map has been lost to disease. For another, the MacIvers, who seemingly fell off the face of the planet the day at the dawning of the new century when they sold their winery to Jess Jackson, have hardly taken a sniff of
Matanzas Creek
.