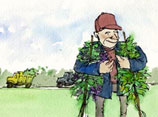 The Clarksburg appellation – which enfolds 56,900 acres of rich farmland spanning Sacramento, Solano and Yolo counties – is blessed with many graces. Sixteen miles long and eight miles wide, it has over 10,000 acres of vines. With poorly-drained clay and loam soils, this appellation combines arid conditions with a nutrient-rich base. Summer days are warm here, but in late afternoon, cool breezes from San Francisco Bay roll into the Sacramento River Delta, preserving acidity in the ripening fruit. The air mass keeps the Clarksburg AVA an average of nine degrees cooler than neighboring Sacramento.

More than twenty five wine grape varietals thrive in the AVA. So why is this very large and very productive appellation so little known? Alas, best results in this terroir are achieved by Chenin Blanc and Petite Sirah... read: not Chardonnay and Cabernet Sauvignon. While the Clarksburg appellation produces over 40,000 tons of grapes annually, 90% of it is crushed outside the appellation. Multiple wineries, both in and outside the AVA, are now producing under the AVA name, which may signal much deserved future recognition.

New facility projects such as conversion of The Old Sugar Mill, a shuttered beet sugar processing facility, into a major multiple winery facility has certainly presented opportunity for expanded presence of wines of this appellation.

Bi-State Upper Hiwassee Highlands an AVA
By
Roger King
August 6, 2014
In the southern Blue Ridge Mountains of North Carolina and Georgia vineyards are small and few, yet the establishment of the Upper Hiwassee Highlands could bring much more.  [>] continue

The Secret AVA: Clarksburg
By
Jean Deitz Sexton
June 16, 2009
[>] see all Clarksburg features (1)

Remote Manton Valley New California AVA
By
Roger King
July 31, 2014

WAWGG Banquet Explores Washington State Terrior
By
Roger King
February 2, 2014

Taking Focus on Appellation
By
Clark Smith
December 9, 2013

A Day in the (Rutherford) Dust
By
Barbara Trigg
August 2, 2013

Whitehall Lane Winery, A 20 Year Story of Vineyards
By
Roger King
July 15, 2013

Embracing Virginia's Terroir
By
Richard Leahy
June 2, 2013