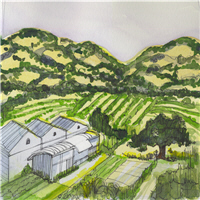 Yolo County is located in the northern part of the U.S. state of California, bordered by the counties of Sacramento, Solano, Napa, Lake, Colusa, and Sutter.The county has a total area of 1,023 square miles. Yolo County has quietly participated in the California wine growing community for decades but is a significantly diverse growing area from NorthWest to SouthEast. The Southern and Eastern areas are formed by waterways and delta air influences and contain the Clarksburg and Merritt Island AVA. Located towards the very back of the California delta, breezes ultimately coming up from the San Francisco Bay complex generally provide meaningful cooling to this interior area and the soils are very deep and fertile. Water is readily available and high production growing conditions are present with good climate conditions to produce quality fruit. The Northwestern extremes of the County are actually against the eastern foot, and extending into the most eastern parts of the Vaca Range. Most is generally shielded from all marine influences yet plantings into these eastern range canyons and air drainages can experience late evening influences during growing season. This ares varies from deep to marginal soils dependant to location and often can be very dry. The Dunnigan Hills and Capay Valley AVA's are found in this area. At the very base of these coast mountains evening downdrafts of cooler air can benefit unexpected placement of Chardonnay and Viognier. Tempranillo, Petite Sirah, Syrah, Zinfandel and Barbera can thrive. Plantings are now pushing back from this eastern side, through these mountain areas, towards neighbor Napa County. Cache Creek provides the dominant water supply flowing down from Clear Lake, yet many locations can be very arid.

A Day in the (Rutherford) Dust
By
Barbara Trigg
August 2, 2013
While the early days of Napa Valley always mentioned the dust in summer, Rutherford Dust referred to an entirely different context. During a recent tasting in Napa Valley held by the Rutherford Dust Society a wide wide range of Rutherford wines shed new light on the long term meaning.  [>] continue

Whitehall Lane Winery, A 20 Year Story of Vineyards
By
Roger King
July 15, 2013

Embracing Virginia's Terroir
By
Richard Leahy
June 2, 2013

Shake Ridge Ranch - Gem of the Sierra
By
Roger King
May 16, 2013

HR9 Supports (CA) Historic Vineyard Society
By
Roger King
May 9, 2013

Tannat, Vibrant Across the America's
By
Barbara Trigg
May 6, 2013

Welcome Middleburg Virginia AVA
By
Roger King
January 4, 2013

Humboldt County: Is Too Much Terroir Possible?
By
Clark Smith
October 14, 2012