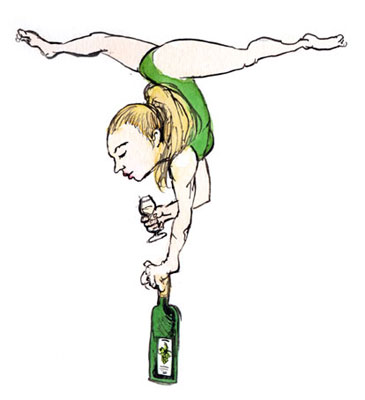 Chenin Blanc
Underneath that mat of dusty, straw hair, there is the face of a superstar. You are flexible and graceful … a gymnast of styles. We've enjoyed your gold medal performances in France's Central Loire where you excel on all the apparatus -- dry, sweet and sparkling. Now you are performing in a new arena, under the bright lights of Clarksburg in the Central Valley. Keep practicing, Chenin. Eventually, you will vault your way into the hearts of North America.

Appellations Growing Chenin Blanc Grapes
Appellations producing the most Chenin Blanc wines:
Chenin Blanc Grape Details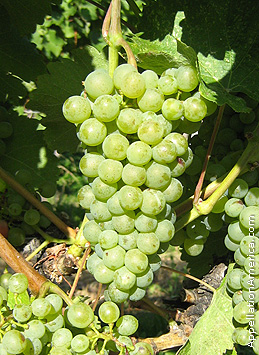 Chenin Blanc (aka. Steen, Pineau de la Loire, Pineau d'Anjou)

Chenin Blanc has flourished since the ninth century in its Central Loire homeland, on the highly calcareous, tuffa soils of Anjou and Touraine. Chenin Blanc's tendencies towards green fruit characteristics with mineral notes and pronounced acidity traditionally lead to it being made into an off-dry wine, where residual sugar balances its high-acid nature. Well made Chenin Blanc from the Loire has a distinctive, musty, damp straw aroma. However, these same characteristics have sometimes been incorrectly confused with the off-aromas found in poorly made, over-sulphited, sweeter versions of Chenin.

Chenin Blanc's high-acid tendencies have made it popular in warmer than usual viticultural regions, like California and South Africa (where it is known as Steen), both of which easily eclipse total French plantings. However, in these warmer conditions, the wines tend to be much more neutral, rarely hinting at the complexity of wines from Loire appellations like Vouvray and Montlouis.

The reasons for this disparity may stem from the lack of regard afforded the variety by American vineyard managers and the US marketplace. In the shadow of more in-vogue varieties, like Chardonnay and Sauvignon Blanc, Chenin Blanc is rarely privileged with the best growing sites. No doubt North American Chenin Blanc would benefit from more moderate climactic conditions, lower yields, and being planted in the chalky type of soils which it performs so well in elsewhere. In California's hotter bulk winegrowing regions, yields are often as much as 2 1/2 times the maximum allowable from Loire vineyards. Chenin's response to such treatment is to make wines of little varietal character and complexity, lacking much of its typically refreshing, life-giving acidity. It isn't surprising that such bland wines have doomed the variety to the role of jug-wine workhorse. However, a very notable exception to this is the Clarksburg AVA at the northern end of California's Central Valley. Here. many producers have recognized the grape's potential for high quality wine, and Clarksburg is beginning to build a reputation for premium wines based on its great success with the generally overlooked Chenin Blanc.

With a relatively thin skin, Chenin Blanc is susceptible to botrytis under the right conditions. Indeed, this variety makes some of the most luxuriously unctuous dessert wines, capable of aging gracefully for many decades, due in part to its typically high acidity. The variety's natural tartness also makes Chenin Blanc a favorite base wine for sparkling production, particularly in the Loire appellations of Vouvray, and Saumur.

Texas Hill Country
From Tuscany to Provence in Texas Hill Country
By
Eleanor & Ray Heald

Red Mountain
The Pilgrims Land on Red Mountain
By
Anne Sampson

Okanagan Valley
Michael Bartier is
The Okanagan Mixmaster
By
John Schreiner

Napa Valley
The Fall and Rise of Charles Krug Winery
By
Alan Goldfarb