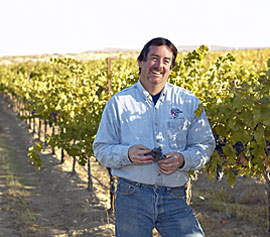 The Pilgrims Land on Red Mountain
"I try to capture the concentration of the fruit, and balance it with the back-of-the-palate depth of European wines." ~ Keith Pilgrim
by Anne Sampson
June 3, 2008
---

eith Pilgrim
lives with a variety of passions, not the least of which is wine. Still, Pilgrim, the owner of
Terra Blanca Winery and Estate Vineyard
on Washington's Red Mountain, didn't start out with wine as his first passion.
Like most winemakers, Keith Pilgrim started his adult life in a different field. Although he had worked in vineyards and wineries in his native California and even dreamed of someday owning a vineyard, Pilgrim's career as a geologist took precedence, and he spent about 10 years traveling the world on consulting assignments. So when Pilgrim and his wife ReNae decided to seek a more stable lifestyle, he put together a couple of business plans.
"Wine was something I was always passionate about; I just never thought I'd turn it into a business," he said. "I actually had permission from the Tongan kings to run a sailboat charter on their islands." He was just a little north of 30 years old at the time.
"Old enough to know better," I quipped.
We were sitting in the Onyx Room recently at Terra Blanca's massive tasting facility, talking about Pilgrim's wines. The room is named for his premium red blend.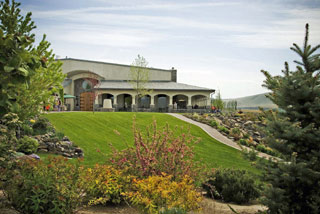 Pilgrim laughed. "I worked in geology for about 10 years, and the whole time I did that I probably visited the house I lived in for about one month out of the year." So sailing around the South Seas was actually more like settling down. That plan sank, however, when ReNae asked about her role on the boat, and he naively replied that she would handle the cooking and cleaning.
A life tending wine grapes suddenly looked more attractive.
Today, the Pilgrims own a 300-acre estate
on Washington's famed
Red Mountain
. The winemaking facility and tasting room are monumental – a Mediterranean-styled manse surrounded by terraces and patios positioned to focus visitors' eyes on the pastel vistas of Red Mountain. The place is designed for crowds – lots of seating and a few outdoor fireplaces on the patios, and inside, two different tasting bars, one equipped with wood-burning ovens and a demonstration kitchen. The Onyx Room, where Pilgrim and I talked about Terra Blanca, is an intimate space for small meetings and dinners, lined with bottles climbing to the soaring ceiling. Another private room accommodates larger groups, and opens to an enclosed patio. Beneath the surface, barrels rest in caves carved out of the mountain, the first and largest cave system in the Northwest. Terra Blanca's caves can store more than 3,000 barrels.
The building at Terra Blanca grabs a lot of attention, but the real story is in the vineyards. The Pilgrims in 1993 began planting 40 acres to a wide variety of grapes, with a heavy emphasis on research. "We have 60 different varieties or clones planted here that aren't planted anywhere else in the state," Pilgrim said. "We're still figuring out what to plant where."
Well, not exactly. Pilgrim has figured a few things out. Terra Blanca bottles around 32,000 cases a year of distinctive Merlot, Cabernet Sauvignon, Syrah, Viognier, Sauvignon Blanc, Riesling and Chenin Blanc, as well as a premium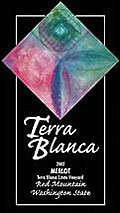 blend called Onyx. The estate's 80 acres currently under production also yield Bordeaux varieties like Malbec, Petite Verdot and Cabernet Franc, along with a sampling of Sangiovese, Dolcetta and Barberra.
"Cabernet is doing spectacularly well here," he said. And he's been pleasantly surprised by the Marsanne, typically a grape that does best in moderate climates. "I like the Marsanne coming off the estate better now than stuff grown elsewhere. It's more intense, certainly has a bit more fruit flavor. I would have thought that the flavors wouldn't be there, it might taste a little more washed out, but we're not seeing that at all."
Red Mountain's diversity was one of its biggest attractions for Pilgrim.
Growing up awash in the nascent wine industry near Fairfield, California, Pilgrim spent his childhood following his parents around the Napa Valley on wine-tasting tours. When it came time to invest in land, he looked at Paso Robles and Washington, but saw the potential to grow a wider range of varietals in the Northwest.
His willingness to experiment, to search for the best fruit from his land, means that some of his first vintages never see the inside of a Terra Blanca bottle. The ancient soils of Red Mountain offer deep, distinctive flavors, and Pilgrim extracts from his vines as much of that promise as he can. "Red Mountain soils are relatively devoid of organic materials, they're extremely alkaline, and they're intermixed with a lot of flood deposits that would be a challenge for a lot of crops. But for wine grapes, they're ideal," he said.
Pilgrim likes to talk about the "Red Mountain signatures" – distinctive traits that characterize the tiny AVA's wines. "You can identify them in any of the grapes grown up here. There is a chalkiness at the front of the mouth before you taste the tannins on the

roof of the mouth. Another one we describe as a hint of Grand Marnier, a candied orange flavor," he continued. "The Cabernet starts off with a violet perfume and opens up into the whole range of black fruits, moving very quickly into black cherry, blackberry and chocolate aromas."
Syrah expresses itself a little differently, and this is where Pilgrim's willingness to experiment with different clones pays off. "With one clone you get wild blueberry and huckleberry flavors, with white pepper," he said. "On another clone you get a leathery tobacco flavor, like Northern Rhone wines. A third clone goes a little further with the leather and tobacco, even bacon fat."
In the vineyard, Pilgrim draws out those flavors with careful management throughout the growing season. He crops the Cabernet, for example, at a remarkably low one-and-a-half to two tons per acre. "In Eastern Washington it's pretty easy to control vine vigor by turning off the water," he explained. "I'm typically pretty stingy with water during rapid berry growth, from the end of June through July."
After veraison, when the vines see more shoot growth, he works to control the canopy. "It's pretty typical for us to burn the tendrils and the tips in July to stop them from growing so much. We leave the west side of the canopy to flop until after the second week of 100-degree temperatures," protecting the fruit from sunburn as it builds intense flavors. Terra Blanca's crews monitor the grapes three times a day, watching their progress closely. "It takes a fair amount of time to do that because we're operating right on the edge of providing just enough water to grow," Pilgrim said.
That long and concentrated growing season is one of Red Mountain's hallmarks
, and Pilgrim takes full advantage of it. The caves maintain a constant humidity between 90 percent and 95 percent and an average temperature of 57 degrees; that helps remove