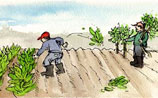 During the late 1800s it seemed that wine grapes would become the most important cash crop in Tennessee. Prohibition all but killed this notion and it would be almost 100 years before Tennessee would witness a rebirth of the industry. The majority of Tennessee's 30+ wineries are concentrated in the middle and eastern parts of the state, where farmers were eager to find a good alternative crop to offset the declining tobacco industry. Most wineries are working with American cluster grapes and French-American hybrids, which seem the most adaptable to Tennessee's humid growing conditions. Wineries also struggle to find varietals hardy enough to withstand cold winters, while still producing wines with appeal to consumers. Vitas vinifera varieties are very susceptible to fungal diseases in these parts, making them problematic for Tennessee growers. It is fair to say that the search for the right terroir-varietal match-up is in the early stages in Tennessee.

Taking Focus on Appellation
By
Clark Smith
December 9, 2013
Appellation America has entered its second decade on the web. Much has changed since the start, but the core focus remains characterizing the unique flavor profiles of North America's appellations and the natural influences and human cultural forces which influence them.   [>] continue

Whitehall Lane Winery, A 20 Year Story of Vineyards
By
Roger King
July 15, 2013

Embracing Virginia's Terroir
By
Richard Leahy
June 2, 2013

Shake Ridge Ranch - Gem of the Sierra
By
Roger King
May 16, 2013

Tannat, Vibrant Across the America's
By
Barbara Trigg
May 6, 2013

Welcome Middleburg Virginia AVA
By
Roger King
January 4, 2013

Humboldt County: Is Too Much Terroir Possible?
By
Clark Smith
October 14, 2012

Historic Buena Vista Winery Restored
By
Barbara Trigg
September 18, 2012