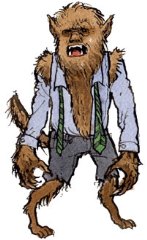 Tannat, Vibrant Across the America's
Tannat, a varietal from Southwest France and of great tannic composition, has increasingly been embraced by US winemakers. But in the America's it has been Uruguay that has placed Tannat at the top of the order. Appellation America assembled our tasting panel to explore what is happening with Tannat across the US and included several Tannat releases from Uruguay.
by Barbara Trigg
May 6, 2013
---
<!>
Tannat. Wine geeks will recognize it as the dominant grape grown in the Madiran AOC in the foothills of the Pyrenees Mountains in southwest France. There the thick skinned black grape, whose name derives from the word tannin, produces powerful, rustic wines that traditionally require years in bottle to soften. But this once obscure grape is finding a new home in the new world and new-world wine making techniques are making it more approachable to the curious wine adventurer.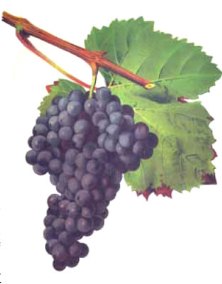 What makes the wine so tannic? So astringent that it has traditionally been blended with Cabernet Sauvignon to soften the edges? In addition to the very thick skins, it also has five seeds whereas other fine wine grapes have only two or three. These extra seeds and thick skins provide the added tannins. Modern winemaking techniques used to soften the wine include micro-oxygenation which was developed by a winemaker in France while working with the grape. This process involves the controlled addition of oxygen to the wine. Removing the pips during fermentation is also used along with longer barrel aging and cold soaks. While it remains age-worthy, the wine is now drinkable years earlier than in the past. Bear in mind these skins and seeds contain high level of compounds rich in antioxidants which some studies have shown to aid heart health. Along with its bold spicy taste profile, the wine might also be good for your health!
Tannat migrated to Uruguay with Basque settlers in the late 1800s. There it has thrived and today Tannat, also called Harriague after the settler who introduced the grape, is the signature wine, much as Malbec is to Argentina. Today there is more Tannat produced in Uruguay than in France. Uruguayan soils, geography, and maritime climate are remarkably similar to those of Bordeaux, but warmer and with more humidity. Most Tannat is grown in the southeastern corner of the country, close to the Atlantic Ocean where coastal breezes mitigate the high summer temperatures and cool nights preserve acidity in the grapes. Uruguayan Tannat is said to be less acidic, more full-bodied, and more fruit forward than its French cousin. The Uruguayans love their wine and most of it is consumed in the country but more is being exported every year.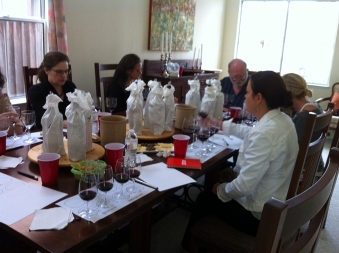 So the grape journey continues and now Tannat wines are being produced in warmer regions around the United States. I tasted a Tannat at Chateau O'Brien in Virginia and found it to be both bold and elegant. With my curiosity piqued, I wanted to know more about this wine. AppellationAmerica brought in some samples and convened our frequent panel (Catherine Seda, Liz Cohen, John Dickenson, Kerry Kirkham, Grant Kennell, Barbara Trigg, Danielle Butros) to see what we could learn. In a blind tasting, we included wines from Uruguay, California, Virginia, Texas, Georgia, and North Carolina. And what a pleasant surprise they were!

I hid a
Madiran
, the 2009 Chateau Fitere, in the line-up which was easily identified by the panelists for its earthy nose, slight brett, violet, and tart cranberry aromas. The medium body, gripping acidity, drying tannins, citrus, sour cherry, and earthy flavors gave it away. Very French.
The other wines portrayed a decidedly "new world' style. One panelist remarked that the wines were more fruit driven than expected. Blackberry was the taste all panelists noted on their tasting sheets. Bold tannins, pleasing fruit and smoke nose, and spices such as sage, rosemary and clove appeared often. I think most of us were expecting to be assaulted by tannin alone and that was not the case. The tannins were enveloped in dark rich fruit.
From
Uruguay
we had three samples from Bodega Bouza in Montevideo. Bouza was founded in 1942 and specializes in Tannat. In their newly modernized winery, grapes are sorted berry by berry after destemming, spend between six and eighteen months in both American and French oak, are bottled unfiltered and then held for up to 1 year in bottle before release. All of the wines were pleasing with tart acidity and hearty tannins. Most preferred the 2009 which leads one to believe that these wines do deserve time in the bottle before drinking.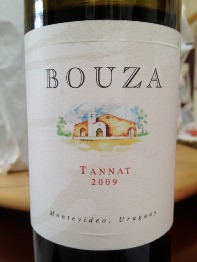 Bouza 2009 Tannat
Montevideo: Highlights were a nose of black current and plums with caramel and vanilla. The flavors are of green and ripe blackberry bunches, dried herbs and toasty oak.
Bouza 2010 Tannat Riserva
Montevideo: black cherry, smoke, and mocha on the nose. Nose of green pepper, fresh grass, blackberries and black cherries with a long tart finish.
Bouza 2010 Tannat A6
Montevideo: an interesting nose of smoke and game with baking spice, vanilla, and cola. Cocoa powder and blackberries filled the palate and finished with a salinity that made us feel like we were close to the ocean.
The
California
wines all seemed to be blessed by the California sun. They were full bodied and almost opaque. Panelists noted blackberry and violet on the nose and flavors of dried herbs, dark fruit and mocha. The tannins were pronounced but balanced by lush fruit and medium to high acidity.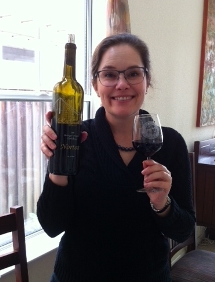 Tablas Creek 2010 Tannat
, Paso Robles: Chosen as the most balanced and less fruit forward of the three tasted. Tablas Creek farms organically on steep slopes between 1400 and 1600 feet in the foothills of the Santa Lucia Mountains west of Paso Robles. It is fermented using natural yeasts. Although frequently blended with a small amount of Cabernet Sauvignon, the long growing season and cool temperatures of the 2010 vintage provided such balanced fruit that this wine is 100% Tannat
Rock Wall 2010 Tannat
, California: A huge ripe wine, soft and lush. Think plum pudding. Rock Wall sourced its fruit from two vineyards, one in the cool Russian River Valley AVA and one in the warmer Solano County appellation. While we usually think of holding Tannat to soften the tannins, a few panelists felt this wine would benefit from another year in bottle mainly to subdue the fruit. It won Gold in the 2013 San Francisco Chronicle Wine Competition. We could understand why. Delicious.
Pasos Vineyards 2008 Tannat
, Alta Mesa~Lodi: The most intriguing wine, with pronounced mint on the nose. The aroma was described by one as a "vanilla-mint chocolate blueberry dessert". As it sat in the glass, aromas of dried rosemary, black tea, and bay took over. A pleasing level of acidity brought out the balance in the wine. When asked, winemaker Antonio Pasos remarked that there are two large eucalyptus trees next to the vineyard that may be the influence but the heavy clay loam soils contribute to the depth and character of the wine.
Texas
is also finding its climate and soils amenable to growing Tannat. We received three samples from Bending Branch Winery located in the Texas High Plains AVA, in the northwest portion of the state. Winery spokesman Jennifer Beckman noted several reasons that Texas is well suited for Tannat. It is drought resistant, which is a plus for a region "knee deep in drought". It thrives in the heat and has a thick skin that can withstand the sunburn and its thick leaves offer some pest resistance. The three wines were interesting in that two were produced with fruit sourced from the Bella Collina Vineyards in Paso Robles. Bending Branch hand harvests and begins crush and fermentation in Paso Robles and then brings the barrels back to Texas to be finished. Each had its own personality.
Bending Branch Winery 2010 EM Tannat
, Paso Robles: EM stands for extended maceration, and in this wine the free- run juice spent thirty days in contact with skins, seeds, and pips after completion of fermentation to smooth and soften the robust tannins. Our panelists noted a sweet nose of violets, blackberry pie with undercurrents of lemon and orange zest, and dried herbs. Mouth filling flavors of blueberry and vanilla. All noted the low astringency and softness of the tannins.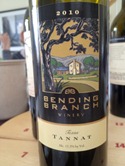 Bending Branch Winery 2010 RF Tannat
, Paso Robles: RF stands for regular fermentation and it is interesting that the panelists used the term bold for this wine. Dried herbs, clove, mocha and cocoa were descriptors most frequently seen. Overall this wine was preferred to the EM but both were pleasing.
Bending Branch Winery 2010 Texas Tannat
: Possibly the favorite of the three, this wine had a lighter body and felt fresh on the palate. The flavors and aromas were of tart, not as ripe, dark fruit with loads of spice, oak, and a hint of pepper. The wine won Gold at the 2013 Dallas Morning News Tex Somm International Wine Competition and we could see why. This is a great food wine.
On the
East Coast
rain and humidity pose a different problem in the growing season and the wines we tasted are all grown on breezy hillsides or foothills with good drainage.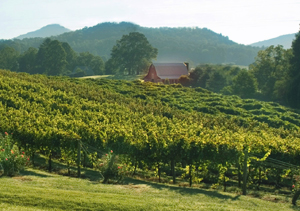 Tiger Mountain Vineyards 2009 Tannat
, Georgia: Located in the foothills of the southern Blue Ridge Mountains in western Georgia, Tiger Mountain produces a lighter, medium body version of Tannat. Everyone noted its pleasing aroma and one of the panelists noted that "it smells like mountain fruit". The aromas are smoky, dusty blackberry, and rich with vanilla. The flavors are of sour red cherry and spicy mint.
Shelton Vineyards 2009 2-5-9 Tannat
, Yadkin Valley (North Carolina): This is the wineries' inaugural vintage of Tannat. It contains 5% cabernet Sauvignon and 5% Petit Verdot and was a panel favorite for its old-world style, with anise, violet, and red currant on the nose. The wine has a medium body and nice acidity that balance the tannins and has flavors of mint, black cherry, and mocha. A very pleasing food wine!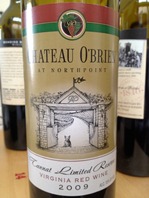 Chateau O'Brien 2009 Limited Reserve Tannat
, Virginia: Located in the foothills of the Blue Ridge Mountains in the new Middleburg Virginia AVA, this could serve as an example of the future of Tannat on the East Coast. There is earth, spice, and bramble on the nose. The wine is rich but not over-ripe. Interestingly it seems austere at the same time it appears concentrated. More full-bodied than the other eastern wines, one panelist stated that it is almost Napa Cab-like. The flavors are of fresh black cherry, dried herbs, and caramel. This is a lovely wine.
Adventurous readers would be advised to be on the lookout for
Tannat
. It may not be readily available but is well worth seeking out. Like many big reds, this is not a sipping wine. Invite friends over and enjoy it with a burger or steak at the summer barbecue.