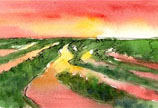 In 1984, the Mississippi Delta AVA was created with the idea that this area, covering northwestern Mississippi and small portions of Tennessee and Louisiana, could become the great wine region of the south. Thus far, however, there has been no significant viticultural development in the region, despite the state's investment of millions of dollars for an enology laboratory at Mississippi State University. Enthusiasm quickly turned from grapes towards pre-existing small fruit farms. Reportedly, the state preferred to nurture this struggling agricultural industry, rather than adopt an enterprise unproven in the area. This leaf-shaped portion of land encompasses 6,000 square miles of fertile topsoil. The few wineries that operate in the area do have success with the native Muscadine varieties, commonly used for wine, juice and jellies.

Whitehall Lane Winery, A 20 Year Story of Vineyards
By
Roger King
July 15, 2013
From initial vineyard plantings on Whitehall Lane in the 1800's the evolution to today's Whitehall Lane Winery has been a story of vineyard. The first 25 acre vineyard property is the winery site, yet the definition of multiple Napa Valley sub appellations is formed in a wide ranging set of vineyards all showing unique profile and character in their wines.  [>] continue

Embracing Virginia's Terroir
By
Richard Leahy
June 2, 2013

Shake Ridge Ranch - Gem of the Sierra
By
Roger King
May 16, 2013

Tannat, Vibrant Across the America's
By
Barbara Trigg
May 6, 2013

Welcome Middleburg Virginia AVA
By
Roger King
January 4, 2013

Humboldt County: Is Too Much Terroir Possible?
By
Clark Smith
October 14, 2012

Historic Buena Vista Winery Restored
By
Barbara Trigg
September 18, 2012

Three Days in Humboldt County and Willow Creek
By
Barbara Trigg
August 22, 2012