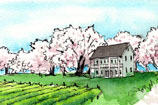 With its strong, celebrated passion for food and the rich gastronomic histories of its early French and Spanish settlers, why has the Bayou State never developed a vital wine industry? Well, actually, it has a long relationship with wine, dating back to at least the early 19th century. At that time, great volumes of European wine were imported to Louisiana and profitably redistributed along the Mississippi River Delta. A homegrown wine industry did take root, with most of the wine produced in the Florida parishes. However, Louisiana's hot, humid climate punished French hybrid and vinifera vines, exposing them to Pierce's disease and downy mildew. Prohibition also proved devastating for the state's troubled wine industry. By the mid-1970s, enthusiasts were again cultivating their own vines on the loamy soils of the state. Now gaining recognition with such varieties as Norton and Blanc du Bois, Louisiana winemakers are keen to renew the industry and are seeking support for research to determine a perfect ecological fit. Louisiana is home to part of the existing Mississippi Delta AVA and has four bonded wineries, collectively producing about 20,000 gallons per year.

WAWGG Banquet Explores Washington State Terrior
By
Roger King
February 2, 2014
The multiple appellations of Washington will be tasted in a unique banquet dinner at this years Washington Association of Wine Grape Growers Annual Meeting and Trade Show. Nuances of that regional diversity have been paired with the meal being prepared by Chef Dan Carr.  [>] continue

Taking Focus on Appellation
By
Clark Smith
December 9, 2013

Whitehall Lane Winery, A 20 Year Story of Vineyards
By
Roger King
July 15, 2013

Embracing Virginia's Terroir
By
Richard Leahy
June 2, 2013

Shake Ridge Ranch - Gem of the Sierra
By
Roger King
May 16, 2013

Tannat, Vibrant Across the America's
By
Barbara Trigg
May 6, 2013

Welcome Middleburg Virginia AVA
By
Roger King
January 4, 2013

Humboldt County: Is Too Much Terroir Possible?
By
Clark Smith
October 14, 2012