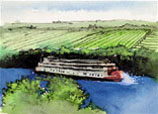 Mississippi's sultry climate makes it almost impossible to grow vinifera vines or even hybrids. To adapt to this climatic challenge, grapegrowers have turned to Muscadine grapes, which thrive in the state's hot, humid lowlands and are widely cultivated. The sweet, highly-productive fruit is commonly used for juice and jellies, as well as wine. Prohibition was not repealed statewide until 1966 and, in the tradition of the south, half of the jurisdictions remain dry to this day. It is an uphill battle for Mississippi wineries, which have faced one obstacle after another. Today, the state is home to only three dedicated wineries.

WAWGG Banquet Explores Washington State Terrior
By
Roger King
February 2, 2014
The multiple appellations of Washington will be tasted in a unique banquet dinner at this years Washington Association of Wine Grape Growers Annual Meeting and Trade Show. Nuances of that regional diversity have been paired with the meal being prepared by Chef Dan Carr.  [>] continue

Taking Focus on Appellation
By
Clark Smith
December 9, 2013

Whitehall Lane Winery, A 20 Year Story of Vineyards
By
Roger King
July 15, 2013

Embracing Virginia's Terroir
By
Richard Leahy
June 2, 2013

Shake Ridge Ranch - Gem of the Sierra
By
Roger King
May 16, 2013

Tannat, Vibrant Across the America's
By
Barbara Trigg
May 6, 2013

Welcome Middleburg Virginia AVA
By
Roger King
January 4, 2013

Humboldt County: Is Too Much Terroir Possible?
By
Clark Smith
October 14, 2012