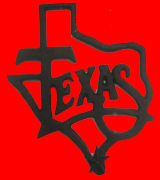 From Tuscany to Provence in Texas Hill Country
by Eleanor & Ray Heald
June 12, 2009
U.S. Highway 290, 80 miles from Austin and a short distance out of the town of Fredericksburg, has morphed into Winery Road in the Texas Hill Country AVA, the largest viticultural area in the state and the second largest in the U.S. Its location, over 200 miles from the Gulf of Mexico, protects the region's grape vines from undesirable hot, humid coastal winds. Undulating landscape provides not only beauty, but 600 vineyard acres shared by approximately 50 wineries.
[>] see full story
Related Stories...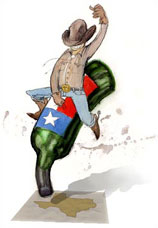 The Texas wine grape industry has been thriving, on and off, since the 1600's. In 1650, Father Garcia de San Francisco y Zuniga, the founder of El Paso, planted vineyards for the production of sacramental wine. He planted the Spanish black grape appropriately named 'Mission', as did most padres who established missionary outposts on the Texan plains. The Franciscans developed irrigation techniques and the vineyards flourished. Viticulture remained an important industry until the early decades of the 1800's. Though the post Spanish era increased the population of Texas to around 100,000, for the "gringo" whisky was king. It was not until the late 1960's and 70's that a new wine revolution began, and today the Lone Star state is home to over 100 wineries, and ranks fifth in total wine production in the United States.

Taking Focus on Appellation
By
Clark Smith
December 9, 2013
Appellation America has entered its second decade on the web. Much has changed since the start, but the core focus remains characterizing the unique flavor profiles of North America's appellations and the natural influences and human cultural forces which influence them.   [>] continue

An Introduction to the Texas AVAs
By
Eleanor & Ray Heald
December 1, 2009
[>] see all Texas features (2)

Whitehall Lane Winery, A 20 Year Story of Vineyards
By
Roger King
July 15, 2013

Embracing Virginia's Terroir
By
Richard Leahy
June 2, 2013

Shake Ridge Ranch - Gem of the Sierra
By
Roger King
May 16, 2013

Tannat, Vibrant Across the America's
By
Barbara Trigg
May 6, 2013

Welcome Middleburg Virginia AVA
By
Roger King
January 4, 2013

Humboldt County: Is Too Much Terroir Possible?
By
Clark Smith
October 14, 2012