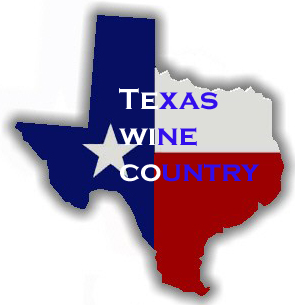 An Introduction to the Texas AVAs
Texas boasts 177 wineries, up from 40 less than a decade ago, a whopping 300 percent increase. Like the size of Texas, wine's economic impact in the state is huge, at $1.35 billion, making Texas number five in U.S. wine production from 3,100 vineyard acres in eight American Viticultural Areas (AVAs).
by Eleanor & Ray Heald
December 1, 2009
---

aunched a decade ago by the Texas Department of Agriculture
, the
GO TEXAN
program was a pioneer in the locavore movement, promoting the state's agricultural products along with cultural elements and Texas communities. Texans quickly bought into the idea. So, if you're wondering why you haven't seen
Texas
wines on the wine shelves in your state, it might be because 98 percent of Texas wine is drunk by 22 million state locals and over 950,000 winery visitors annually.
The 98 percent figure is amazing since there are still a number of dry counties and towns in Texas. The latest news on this front is that Lubbock in the west
Texas High Plains
AVA - and the largest city in the state that remained dry at 210, 000 population - is now wet. In early May 2009, voters in Lubbock approved retail alcohol sales by a 65 to 35 percent margin and restaurant sales by 70 to 30.
Texas is not new to wine. In the Mission era, Franciscan Friars planted the first North American vineyard in Texas circa 1662. "In 1900," said Carol Kull, Executive Director of the Texas Wine & Grape Growers Association, "25 wineries called Texas home, yet only one (Val Verde Winery in West Texas) survived Prohibition. Overall wine industry recovery was not made until the 1970s when experimenting with a number of varieties began."
THE RISE OF TEXAS AVAs
The small five square-mile
Bell Mountain
AVA was the first established in 1986, due to the efforts of Bob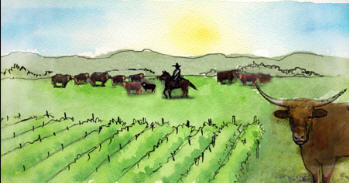 Oberhelman, president and winemaker at Bell Mountain Vineyards, the sole winery in the sub-AVA of the larger Texas Hill Country.
Fredericksburg in the Texas Hill Country
AVA followed with approval in 1988.
Texas Hill Country
, the second largest AVA in the U.S, debuted in 1991 and covers a vast 15,000 square-mile area, containing all or part of 22 counties. It's interesting to note that, although Fredericksburg has its own AVA, most wineries there use Texas Hill Country on their wine labels. These producers maintain that the Hill Country appellation is more recognizable than Fredericksburg.
Then in 1992, the 50 square-mile
Escondido Valley
, of Pecos County in far West Texas, was approved. Much of the central and western Texas Panhandle is known as Texas High Plains AVA and was approved in 1993. The region has 1,100-plus vineyard acres and a flat mesa terrain, 3,400 feet above sea level. Long summers are hot and dry, yet evenings are cool and aid acid retention in the grapes. Texas' largest winery, Ste. Genevieve Wines (founded in 1987), is located in this AVA.
At the end of the 1990s,
Davis Mountains
AVA, southwest of the Escondido Valley AVA became official.
Mesilla Valley
AVA is near El Paso and also includes a portion of New Mexico.
Texoma
AVA borders the Oklahoma state line.
MOTHER NATURE IN CONTROL
Climatic conditions in various AVAs dictate the best grape varieties for the region.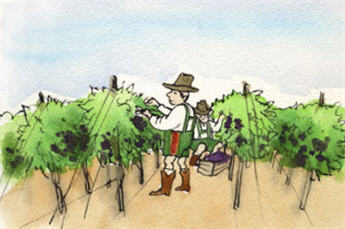 Thus, both non-
vinifera
(hybrid varieties more resistant to harsher climatic challenges) and
vinifera
varieties are grown.
With bragging rights to Italian Moscato heritage, Blanc du Bois, a white non-
vinifera
is attractively fragrant, and is resistant to the vine-deadly Pierce's Disease, caused by a strain of bacteria spread by vine xylem-feeding leafhoppers, known as sharpshooters.
Another non-
vinifera
red variety is Cynthiana, also called Norton. With Zinfandel in its parentage, it is a mainstay in northern Texas vineyards. There's Black Spanish, also Pierce's Disease resistant. It has long been used for dessert wines and only recently has been used successfully for red table wine production.
Familiar
vinifera
varieties, particularly red Bordeaux (Cabernet Sauvignon, Merlot, Cabernet Franc and Petit Verdot) and red Mediterranean varieties (Sangiovese, Syrah and Tempranillo), are widely grown. Riesling can only be grown in cooler northern Texas vineyards.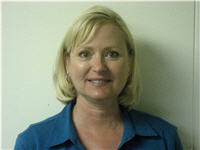 Kull notes, "In my visits around the state of Texas, I have found that many Texas wineries are having success with Bordeaux varieties. Because of the soil and climate, though, many producers are finding that Texas' best reds are coming from Mediterranean varieties and that will be interesting to watch in succeeding vintages."
Other
vinifera
varieties include the whites, Chenin Blanc, Sauvignon Blanc, Pinot Grigio, Gewurztraminer, Viognier, Muscat Canelli and Orange Muscat. An additional red is Ruby Cabernet, a cross between Cabernet Sauvignon and Carignan, valued for its drought resistance and production of a pleasant, cherry-fruit laden lighter-style wine.
THE CHALLENGES AHEAD FOR LONE STAR STATE WINE
There are a number of challenges to growing grapes in Texas. One was exemplified early in 2009 with a series of late winter freezes and thaws that followed each other in rapid succession. In their wake, vineyards in the Texas Hill Country and Texas High Plains reported significant crop losses, up to 50 percent, in a number of vineyards.
Most vines made it through the first end of March freeze, but a second freeze during the weekend of April 11 and 12 struck an unsurvivable blow with temperatures as low as 21 degrees. At the time of the earlier frost event, vines had not yet gone through bud break. However, in the intervening period between freezes, temperatures soared into the 70s and 80s and many varieties experienced bud break; many had shoots several inches tall.
Perhaps it's the effect of global warming. It's difficult not to speculate about climate changes since 2009 is the fourth consecutive year that West Texas will have a reduced crop due to very poor weather conditions.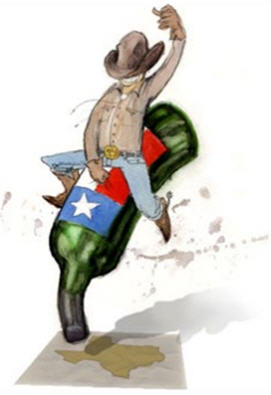 Still, from its numerical stats, Texas appears to be rolling along at a fast clip in the competitive world of wine. That's only recently. An April 21, 2009 article in the
Austin American-Statesman
notes the progress. "I remember," a writer states, "it stopped me in my tracks and I thought, 'This really tastes French to me.' Not just, 'Oh, this is a nice attempt