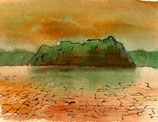 Described as a mountain island, the climate of this Texas appellation is cooler, wetter and more biologically diverse than the Chihuahua desert which surrounds it. Receiving twice the annual rainfall of the desert, Davis Mountain AVA covers 270,000 acres in the Trans-Pecos region of west Texas, with about 50 acres under vine. The area was formed during a slow-motion tectonic and volcanic catastrophe, the same one which formed the front range of the Rockies. The soil of the region is composed of granitic, porphrytic and volcanic rocks, as well as limestone. The soils are porous and offer superior water drainage. Located within Jeff Davis County, in a mountainous region known as the Davis Mountains (second highest range in the state), the elevation of the viticultural region ranges from 4,500-8,300 feet.

Taking Focus on Appellation
By
Clark Smith
December 9, 2013
Appellation America has entered its second decade on the web. Much has changed since the start, but the core focus remains characterizing the unique flavor profiles of North America's appellations and the natural influences and human cultural forces which influence them.   [>] continue

Whitehall Lane Winery, A 20 Year Story of Vineyards
By
Roger King
July 15, 2013

Embracing Virginia's Terroir
By
Richard Leahy
June 2, 2013

Shake Ridge Ranch - Gem of the Sierra
By
Roger King
May 16, 2013

Tannat, Vibrant Across the America's
By
Barbara Trigg
May 6, 2013

Welcome Middleburg Virginia AVA
By
Roger King
January 4, 2013

Humboldt County: Is Too Much Terroir Possible?
By
Clark Smith
October 14, 2012

Historic Buena Vista Winery Restored
By
Barbara Trigg
September 18, 2012