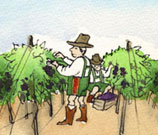 Early German immigrants planted the first vineyards in Gillespie County, Texas, where this bowl-shaped AVA is found among rolling mounds in the central Texas Hill Country. In fact, these immigrants were a major influence in the development of the area. They founded the community of Fredericksburg in 1846, under the auspices of the Society for the Protection of German Immigrants in Texas, also known as Adelsverein. The city of Fredericksburg derives its name from Prince Frederick of Prussia, who was the highest-ranking noble of the Adelsverein. Long ago, it was common here to make wine from wild grapes, particularly the grape known as Mustang. Today, the viticultural area covers approximately 110 square miles, with around 60 acres under vine. As Fredericksburg is located over 200 miles inland from the coast, as well as having a higher altitude, it is not affected by the hot, humid, marine winds from the Gulf of Mexico.

WAWGG Banquet Explores Washington State Terrior
By
Roger King
February 2, 2014
The multiple appellations of Washington will be tasted in a unique banquet dinner at this years Washington Association of Wine Grape Growers Annual Meeting and Trade Show. Nuances of that regional diversity have been paired with the meal being prepared by Chef Dan Carr.  [>] continue

Taking Focus on Appellation
By
Clark Smith
December 9, 2013

Whitehall Lane Winery, A 20 Year Story of Vineyards
By
Roger King
July 15, 2013

Embracing Virginia's Terroir
By
Richard Leahy
June 2, 2013

Shake Ridge Ranch - Gem of the Sierra
By
Roger King
May 16, 2013

Tannat, Vibrant Across the America's
By
Barbara Trigg
May 6, 2013

Welcome Middleburg Virginia AVA
By
Roger King
January 4, 2013

Humboldt County: Is Too Much Terroir Possible?
By
Clark Smith
October 14, 2012