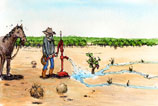 Irrigation is a must in this large appellation located in the Texas Panhandle, 3,000-4,000 feet above sea level. The Texas High Plains climate is very dry, though vineyards benefit from cooling winds. Vignerons depend on the subterranean Ogallala Aquifer, which spans almost the entire area underneath very well-drained soils. This AVA covers around 8 million acres of flat, intensively-cultivated land, where cotton, sorghum and wheat are the predominant crops. There are approximately 3,500 acres of vineyards, with a growing interest in viticulture and a growing number of prestigous awards to back the promotional image of the appellation. Both vinifera and hybrids have been made into quality wines in this appellation since the first commercial winery opened its doors in 1976.

Whitehall Lane Winery, A 20 Year Story of Vineyards
By
Roger King
July 15, 2013
From initial vineyard plantings on Whitehall Lane in the 1800's the evolution to today's Whitehall Lane Winery has been a story of vineyard. The first 25 acre vineyard property is the winery site, yet the definition of multiple Napa Valley sub appellations is formed in a wide ranging set of vineyards all showing unique profile and character in their wines.  [>] continue
[>] see all Texas High Plains features (1)

Embracing Virginia's Terroir
By
Richard Leahy
June 2, 2013

Shake Ridge Ranch - Gem of the Sierra
By
Roger King
May 16, 2013

Tannat, Vibrant Across the America's
By
Barbara Trigg
May 6, 2013

Welcome Middleburg Virginia AVA
By
Roger King
January 4, 2013

Humboldt County: Is Too Much Terroir Possible?
By
Clark Smith
October 14, 2012

Historic Buena Vista Winery Restored
By
Barbara Trigg
September 18, 2012