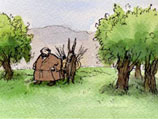 The name 'Mesilla' dates to 1598, when the Spanish explorer Don Juan de Onate came upon an Indian village here, where present day Texas, New Mexico and Old Mexico meet. He named the village Trenquel de la Mesilla, meaning 'little table'. This description refers to the plateau on which the town is situated. The entire valley area is now referred to as the Mesilla Valley. The Mission (aka, Pais) grape variety was originally planted at nearby El Paso, where grape growing can be traced back to 1650. Viticulture in the Mesilla Valley itself dates back 100 years when vineyards were planted at Dona Ana, the oldest settlement in the Valley. The climate of this area is quite simply, hot and dry, with a long growing season ensuring ripeness of grapes. However, cooling winds do funnel through the valley helping to maintain acidity levels in the grapes. The Mesilla Valley AVA covers approximately 280,000 acres, but there are presently only around 40 acres under vine.

WAWGG Banquet Explores Washington State Terrior
By
Roger King
February 2, 2014
The multiple appellations of Washington will be tasted in a unique banquet dinner at this years Washington Association of Wine Grape Growers Annual Meeting and Trade Show. Nuances of that regional diversity have been paired with the meal being prepared by Chef Dan Carr.  [>] continue

Taking Focus on Appellation
By
Clark Smith
December 9, 2013

Whitehall Lane Winery, A 20 Year Story of Vineyards
By
Roger King
July 15, 2013

Embracing Virginia's Terroir
By
Richard Leahy
June 2, 2013

Shake Ridge Ranch - Gem of the Sierra
By
Roger King
May 16, 2013

Tannat, Vibrant Across the America's
By
Barbara Trigg
May 6, 2013

Welcome Middleburg Virginia AVA
By
Roger King
January 4, 2013

Humboldt County: Is Too Much Terroir Possible?
By
Clark Smith
October 14, 2012