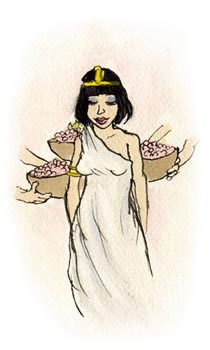 Muscat of Alexandria
Is it your name, your nature, or a combination of the two that conjures up an image of the exotic and sexy Cleopatra? The genealogists even suggest your origins lie in ancient Egypt, where Pharaohs encountered you along the banks of the Nile. One thing's for sure, your inclination is for the warmer climes of the Mediterranean and New World, even if it fattens your already full and curvy figure. It's a wonder that after 3,000 years of consistently providing delirious pleasure, the respect you command is slight. Most friends of the Muscat family prefer the company of your more freshly-perfumed sister, the noble Muscat Blanc, or your come-lately cousins Ottonel and Morio, of questionable lineage! Poor Alex, you have been left to fill the rather demeaning assignment of garnishing cheese plates or, worse still, providing the dried and wrinkled part of trail mix. Even in these roles you are being ousted by that Seedless Thompson boy from Fresno.

Appellations Growing Muscat of Alexandria Grapes
Appellations producing the most Muscat of Alexandria wines:
Muscat of Alexandria Grape Details
Muscat of Alexandria (aka. Moscatel Gordo Blanco, Zibibbo, Hanepoot)

Muscat of Alexandria is an ancient variety, possibly originating in North Africa. Most plantings of this white varietal are in California, where it is generally used to produce raisins and table grapes. As of the mid-1990s, only a portion of the 5,200 acres (down from 11,500 in 1976) was converted to wine. For wine production, this grape is mainly raised in the hot Central Valley, where increasingly, it has been added to sweet quaffing wines of little distinction. Some of this wine is also added to other inexpensive wines, to boost and prettify aromas. Suitable for growing in hot Mediterranean climates, this grape has many synonym names, such as Chasselas Musque in France, Muscat Gordo Blanco or Lexia in Australia, and Hanepoot in South Africa. It makes sweet wines that are often judged inferior, compared to those of the Muscat Blanc variety. However, in some regions it can produce some exceptional sweet wines such as in Spain, where it is called Moscatel de Alejandria, and in Portugal, where winemakers use it to make 'Moscatel de Setubal'.

Alta Mesa ~ Lodi
California Torrontes:
Does it have a future in the U.S.?
By
Alan Goldfarb

America
Confessions of an IMU: A Call to Arms
By
Roger Dial