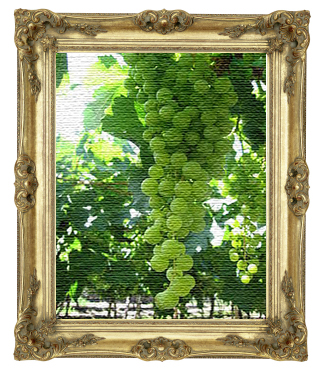 California Torrontes:
Does it have a future in the U.S.?
by Alan Goldfarb
July 8, 2009
---

t will never, ever usurp Chardonnay.
Nor will it surpass Sauvignon Blanc, Pinot Grigio, or even Viognier or Gewürztraminer. On the other hand, Torrontes may some day gain a foothold here because it's easier to pronounce than the latter two varietals, it possesses similar sexy aromatics, and best of all, it can surprisingly belie the nose and finish dry on the palate. And its fruit profile makes for some of the most delicious wine in the world.
These are all factors that are prodding a few California producers and at least one grower to take a shot with Argentina's most widely planted and most important white grape. At the very least, it's on the cusp of breaking out as more and more North Americans are willing to try new, exotic, and idiosyncratic wines.
Currently, there are about a half-dozen California winemakers making tiny lots of Torrontes, all from a grower in the
Alta Mesa
sub-appellation of
Lodi
. On Ron Silva's 294-acre vineyard near the town of Galt in the Sacramento delta, there are but two acres of
Torrontes
with another 2½ coming into production with this vintage. The grower, of Portuguese ancestry, is attracted to the varietal, which has its origins in the Galicia region of Spain, as well as Portugal. In 2002, UC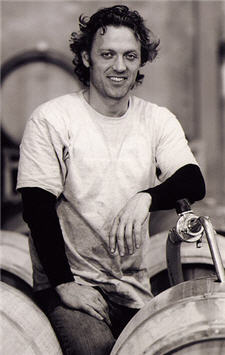 Davis studied the vine's genetic fingerprint and discovered that the varietal is a cross between
Muscat of Alexandria
and
Criolla Chica
, the latter of which is known in California as the Mission grape.
Silva is also drawn to such California outliers as Verdelho and Nero d'Avola, but he has a hunch that Torrontes might stir the pot a little more. "I'm kind of a gambler. You wouldn't call me if I put in two acres of Chardonnay, would you?" he says rhetorically. "…It seems like it grows well. It will never take the place of a Chardonnay or a Sauvignon Blanc, but it will probably find its way into a niche market as a summer refreshing wine and some might blend into Chardonnay and Sauvignon Blanc to add complexity. I consider it as a spice rack."
But several producers have already jumped at the chance to make something different, recently releasing some lots of stand-alone Torrontes, all from the Silva vineyard. Downhill Winery in Los Gatos (Santa Clara County), Blacksmith Cellars (based in Alameda), Fenestra Winery (Livermore), Frog's Tooth (Calaveras County), Santa Cruz Mountain, Sones Cellars (Santa Cruz), and Forlorn Hope (Napa) have all entered the niche.
Matthew Rorick of
Forlorn Hope
has made 180 cases of Alta Mesa Torrontes 2008 and is selling it for $20, a price which surpasses most any Torrontes currently being made in Argentina, and certainly in the U.S. But Rorick, who characterizes himself as "the champion of the lost cause", thinks the variety has a future here. Although when he tried to convince some of his clients for whom he consults, to make some Torrontes, he was met with, "'absolutely not. That doesn't fit who we are … we make Cabernet, and we make Pinot Noir ...'"
Rorick became a believer after visiting the Mendoza, Cafayate, and Salta regions of Argentina two years ago. "I was intrigued (about) the aromatics first and foremost," he explains. "I love aromatics in wine - aromatics, texture and acidity." But he cautions, "If there was anything I was concerned about and put off by, is that they can be quite alcoholic and have a bit of bitterness on the finish, which I attribute to high alcohol."
Rorick mitigated those concerns by picking at 22.5° Brix (a measure of sugar), which produced a wine with 13 percent alcohol, although he admits that "was a bit of a surprise," because he expected the wine to finish at about 12 percent. For this vintage, he says he'll have Ron Silva pick at 22°B.
Additionally, Forlorn's Torrontes was fermented in stainless steel, and with no oak and nor malolactic fermentation (a secondary process which could render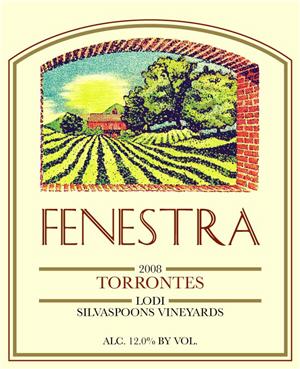 the wine too fat by softening the crisp acidity). Rorick also bottled it unfined and unfiltered.
Another producer,
Fenestra
in the
Livermore Valley
, has been using the Silva fruit since 2007. But winemaker Brent Amos isn't sure he'll make Torrontes from the '09 vintage although Fenestra's 60 cases of the '07 sold out quickly. Some of the 200 cases in the subsequent vintage, which sells for $15, are still available.
Amos, who makes approximately 24 wines at Fenestra, acknowledges, "We're trying to decide if it stands out enough to continue making it. It's a great wine, interesting and unique, but we currently have eight to 10 whites." He further admits that Torrontes "tends to be somewhat simple, and for some people that's its appeal. But I'd rather focus on some of the more interesting white wines that we have, like Verdelho or Semillon."
Nonetheless, the Silva site - some 15 miles from Clarksburg (which has made its name by producing the most interesting Chenin Blanc in California) and about a dozen miles from Lodi (known for its Zinfandel) – would seem suited to Torrontes. Amazingly, Fenestra's Amos says Silva's Torrontes has more going for it than some of the ones he's tried from Argentina.
"It seems to be (a good site). In research, we tried a few different bottles from Argentina, but this was a little more complex and more interesting," he claims.
"Torrontes likes a warmer climate, even hot, and Lodi definitely fits that bill. But it cools off at night, which helps to maintain fruit character and acids." The Silva vineyard certainly has very little elevation compared to the vineyards in Argentina, especially those in Salta, where some of the highest vineyards in the world reside; and from where some of the world's best Torrontes, in one of the harshest, driest climates on the planet, grows.
But it's the soil - coupled with the warm climate, the latter of which Silva likens to Calistoga in northern Napa Valley - that makes it conducive to growing the grape. That fruit produces huge clusters (at about five tons per acre) with thick, crunchy skins and sweetness that Silva claims can be eaten as one would a table grape.
Forlorn's Matthew Rorick further gives a less-than-laudable description of the parcel, but he nevertheless thinks that may be a good thing. "It's not a very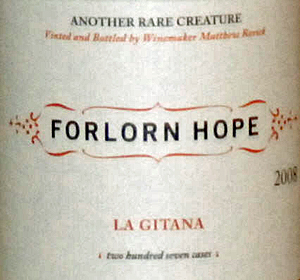 romantic site in terms of viticultural imagination; it's doesn't have stony soils or steep terrain and it doesn't have a sweeping panoramic view (of the Andes in Argentina) or exotic soils, but it matches fairly well to the (climatic) conditions in Salta.